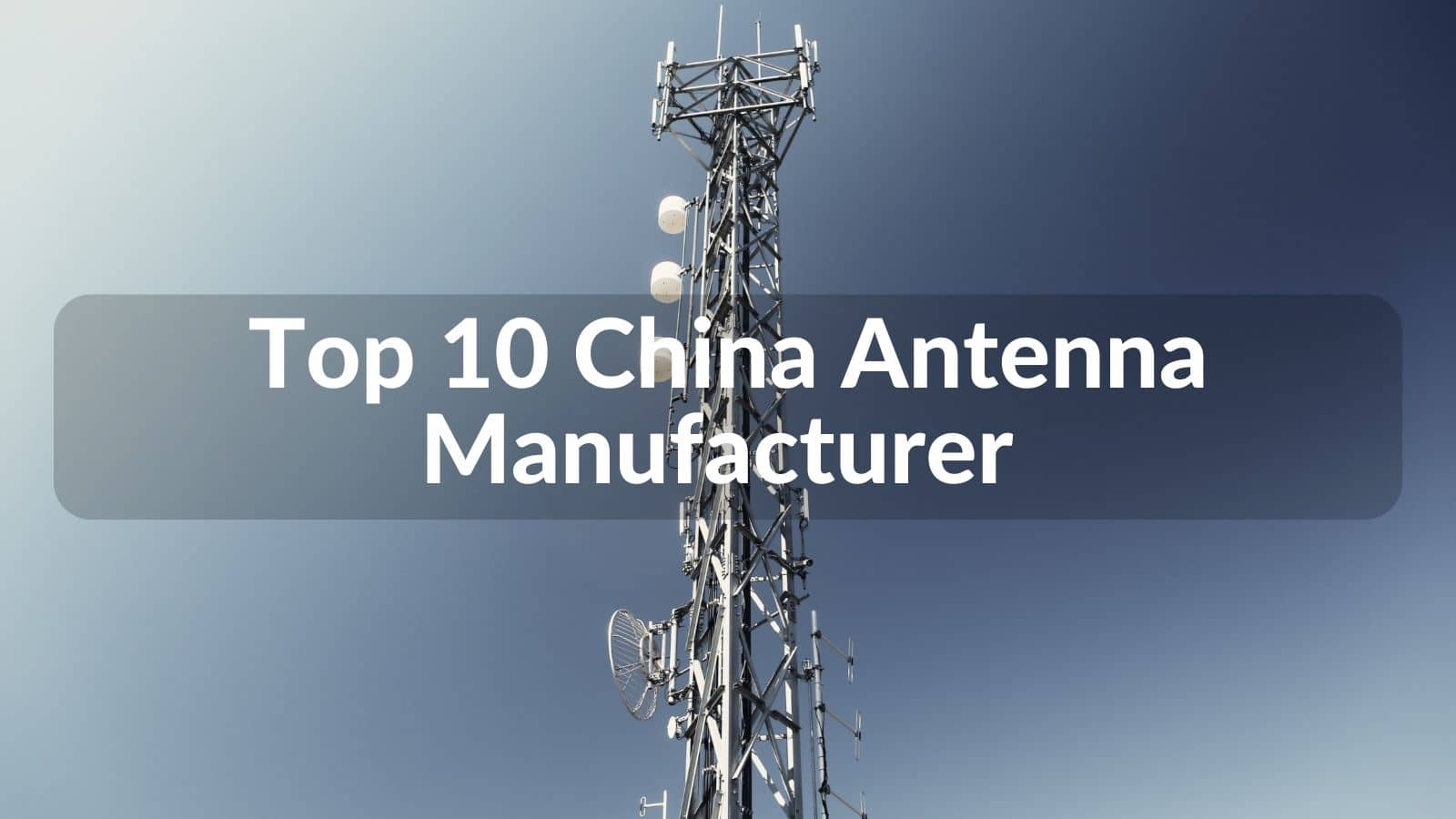 Are you looking for a suitable china antenna manufacturer? We have listed ten Chinese quality manufacturers for your reference, you need not look any further!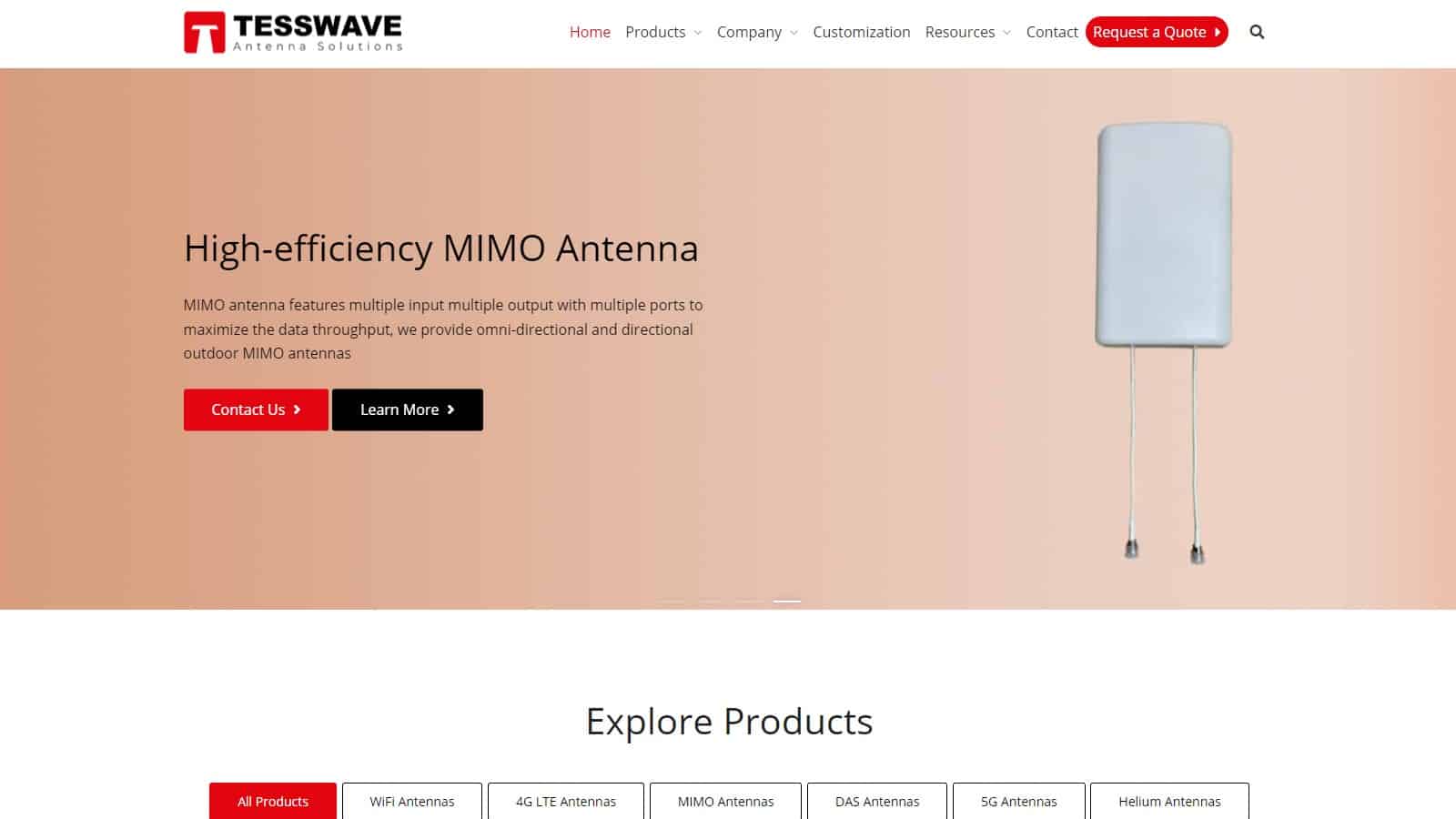 Products and Services: 
Tesswave specialized in designing and manufacturing 2.4/5GHz Bluetooth&WiFi antenna, 3.5 GHz Wimax antenna, Dual or multiple polarized MIMO Antenna, broadband antenna, In-building DAS antenna, CDMA/GSM/3G/4G LTE/5G Antenna, Base station antenna, RFID Antenna, ISM/LoRa/LoRaWAN Antenna, VHF/UHF Antenna, Helium antenna, GPS Antenna, etc and more.
Introduction: 
Tesswave technology is one of the famous wireless antenna designer, manufacturers and solution providers in China. Located in Shenzhen China, the coastal area of south China which enables they to enjoy convenient transportation links to the world. Since established in 2010, Tesswave has a strong R&D team and rich manufacturing experience in the antenna industry.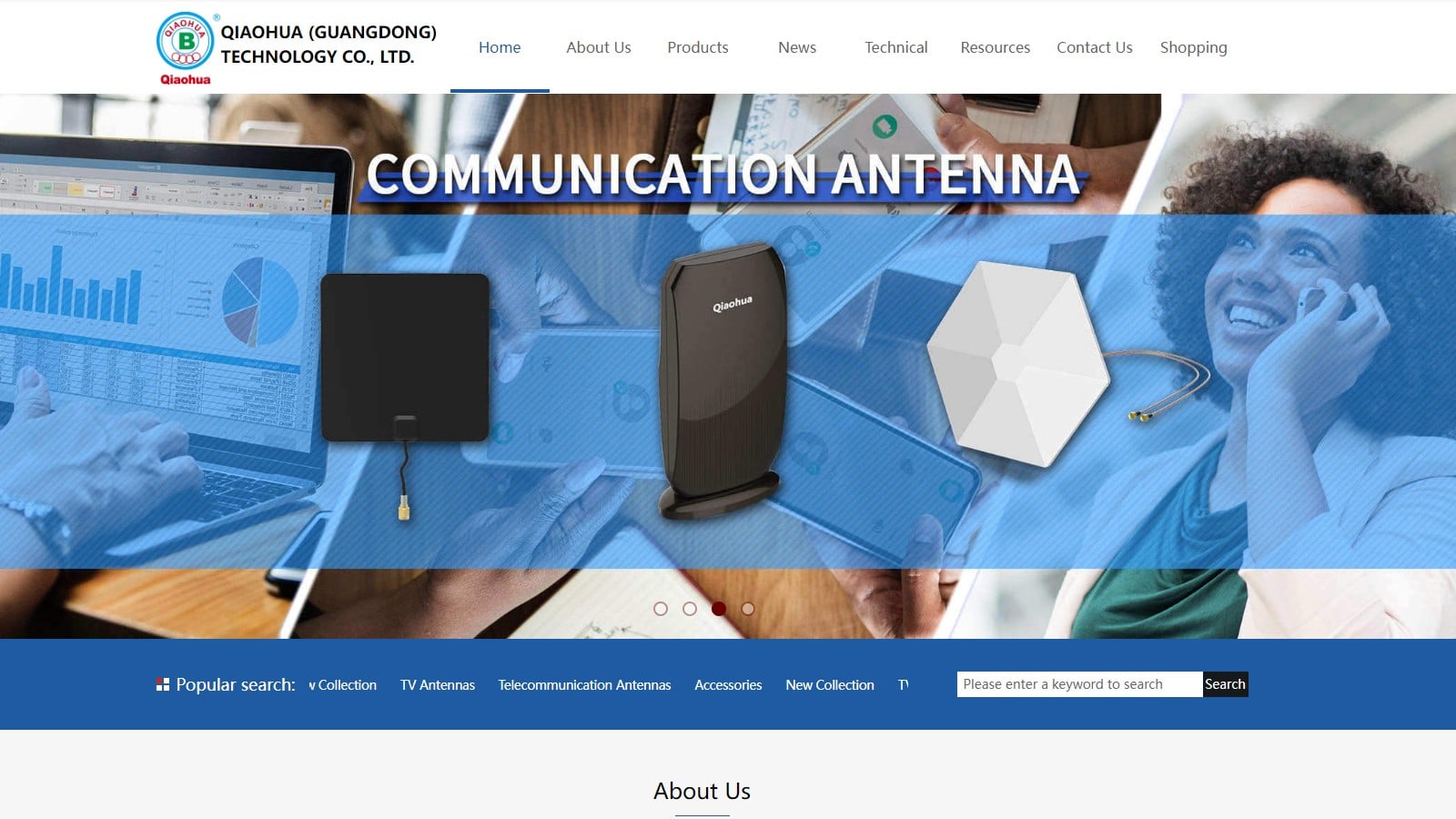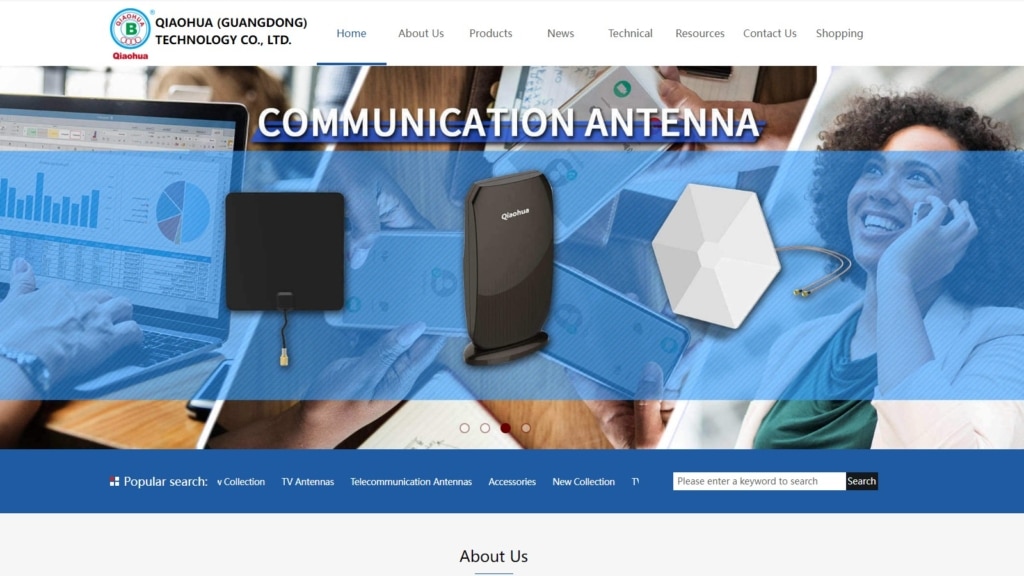 Introduction:
Qiaohua Group Inc., first founded in 1980, is one of the largest manufacturers in China renowned for TV and communication antennas and a wide range of relevant products. Incorporating R&D, manufacturing, marketing and service as a whole, QIAOHUA has become domestically advanced and globally famous. 
After years of research, Qiaohua has reinforced its technology power and R&D system, predominated by specialization, dedication and professionalism in antenna area. Meanwhile, Qiaohua have obtained over 100 patents, including the Wipo-Cipo Award for Chinese Outstanding Patented Invention & Industry Design which was awarded to antenna field for the first time since it was set in 1989.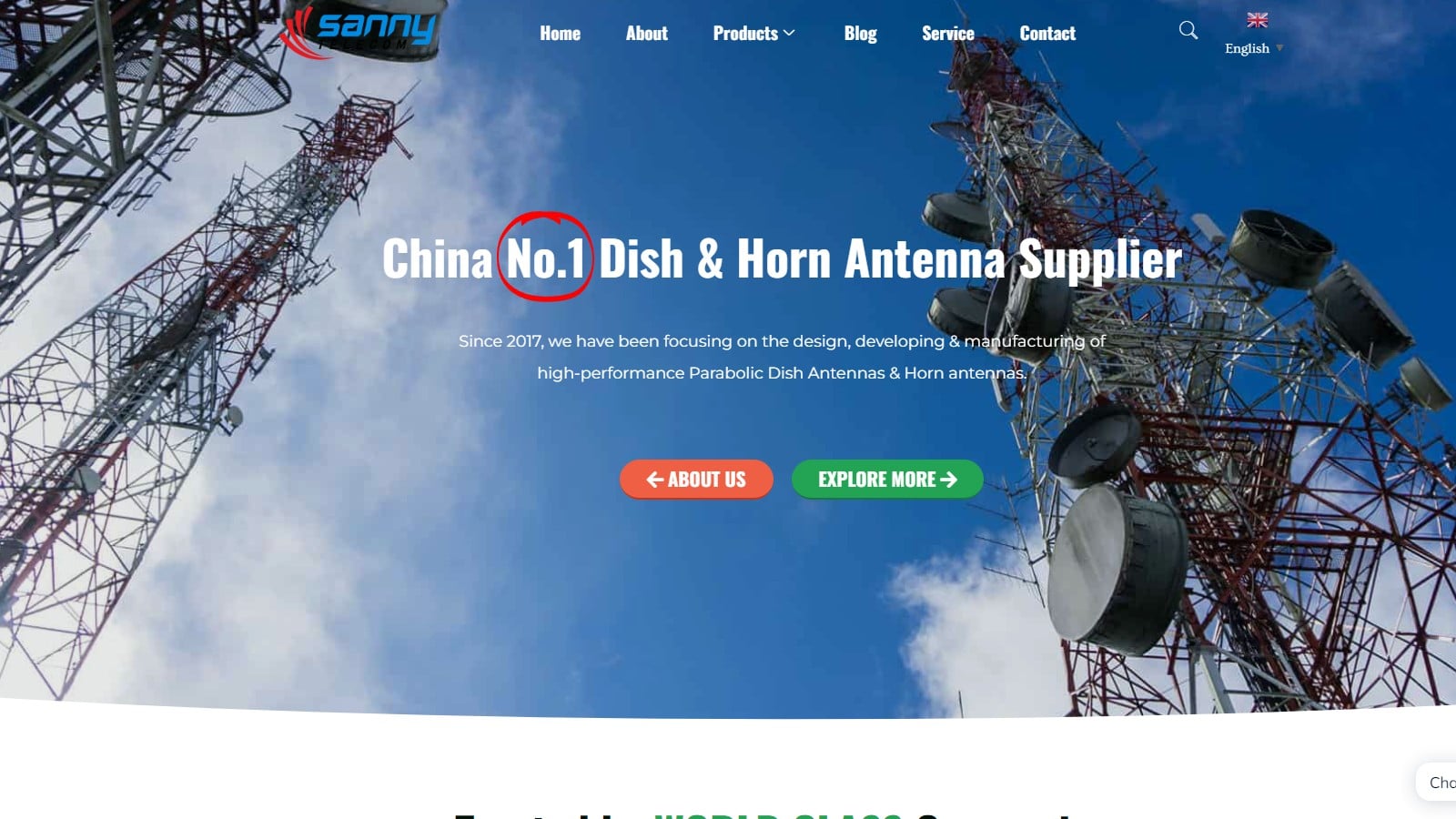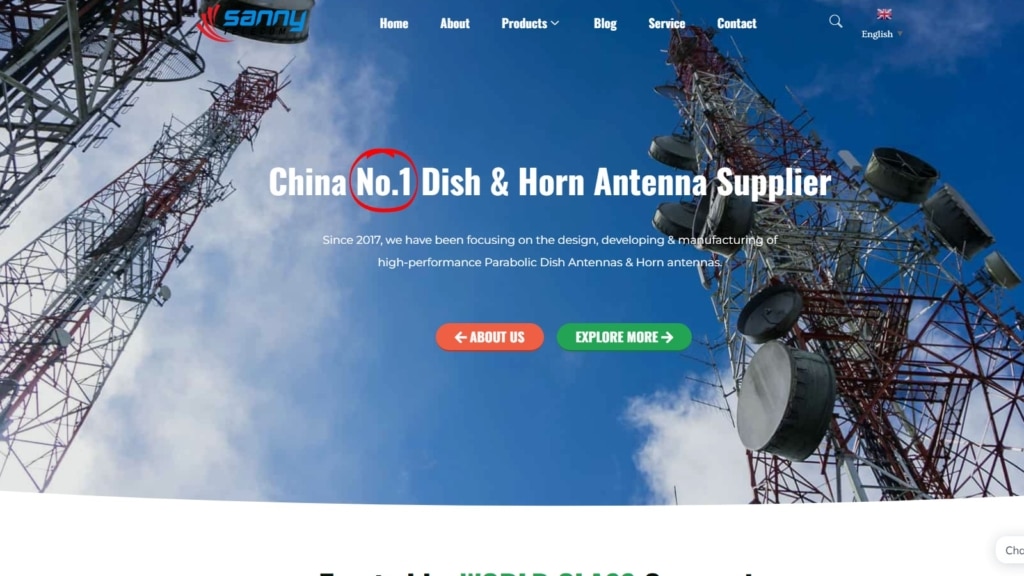 Products and Services:
The company's product portfolio includes DAS Antennas, Parabolic Dish Antennas, Horn Antennas, Omni Antennas, Panel Antennas, RFID Antennas, Sector Antennas, Pigtail Cables, Hardware Accessories, and Protection Radomes, etc. Sanny Telecom's wireless antenna products are designed for mobile cellular coverage, IEEE 802.11a/b/g/n/ac/ax, RFID, private networks, public security, and more.
Introduction:
Sanny Telecom was founded by Andrew Chen in 2014, a professional and technology-driven manufacturer of wireless antenna products that offers various ranges of antenna solutions and considerate one-stop customer service for the wireless communications industries.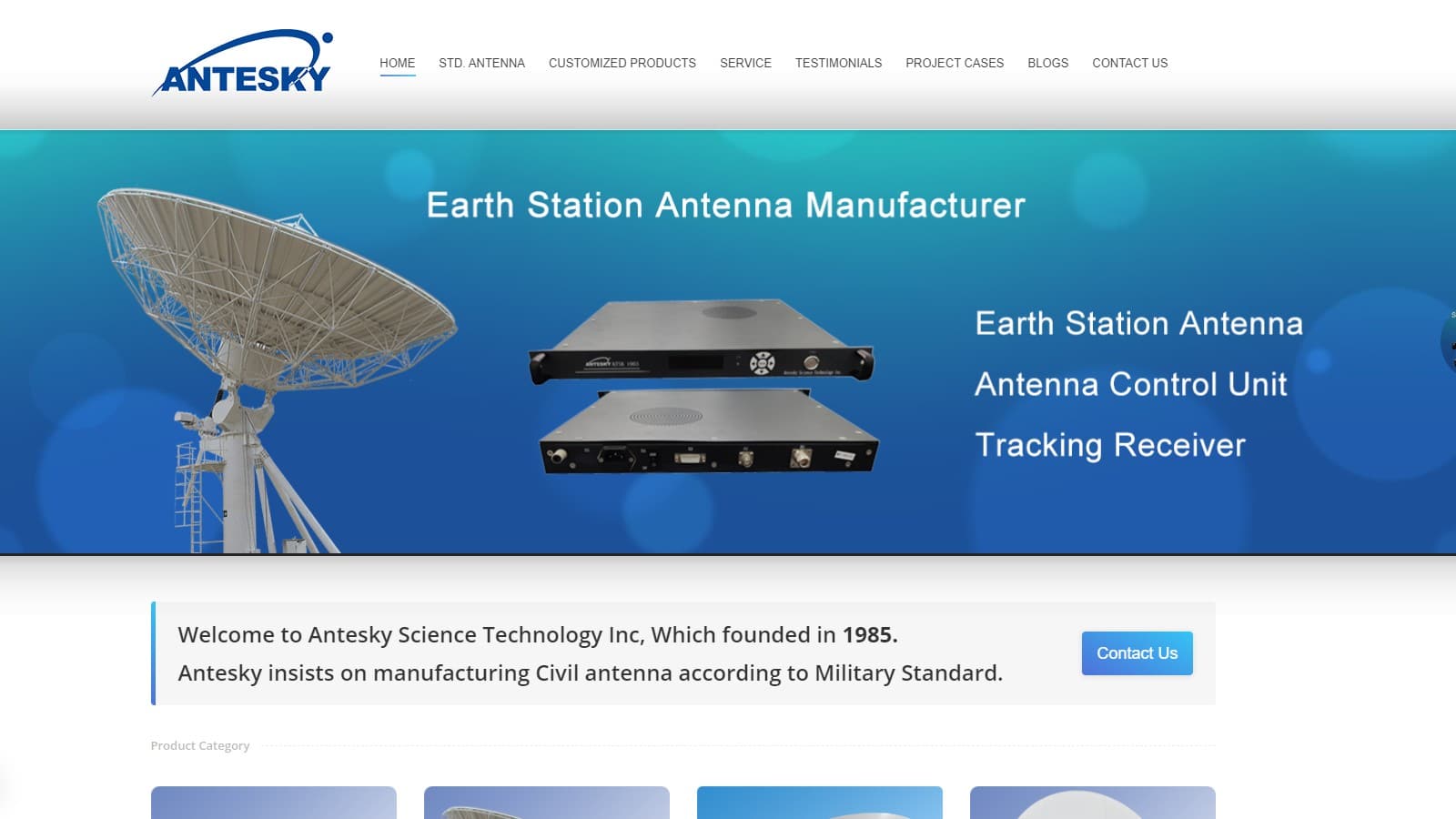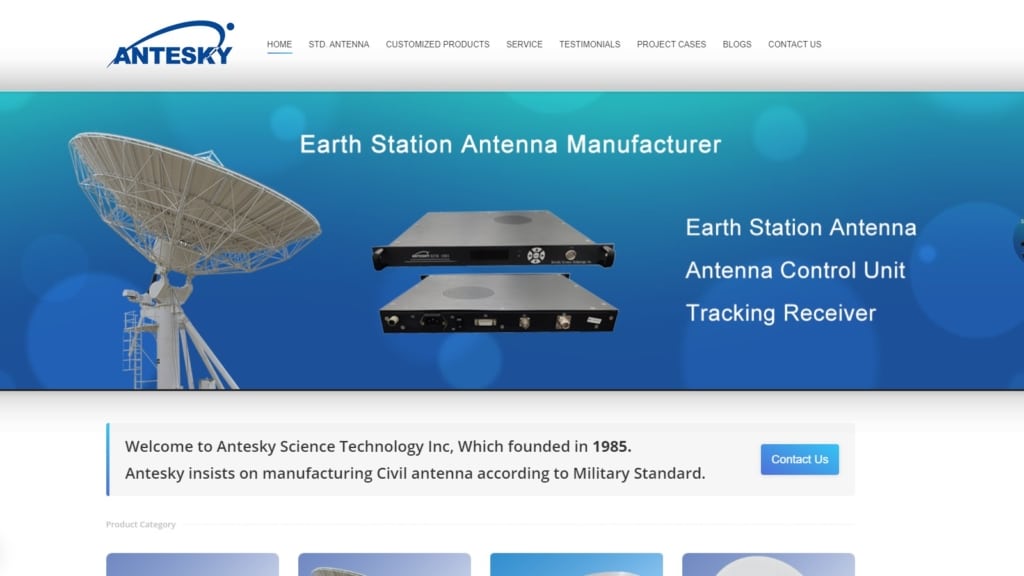 Introduction:
Antesky is a satellite communication company specializing in precision antennas and tracking systems. ANTESKY has become one of the few companies in the world capable of designing, producing and delivering Ka-band large-aperture antennas. For various antenna types such as deep space exploration, defense spectrum monitoring, LEO applications, radio astronomy, anti-intercept receive-only antennas, toroidal multi-beam antennas. Antesky has completed a large number of high-quality projects with positive feedback.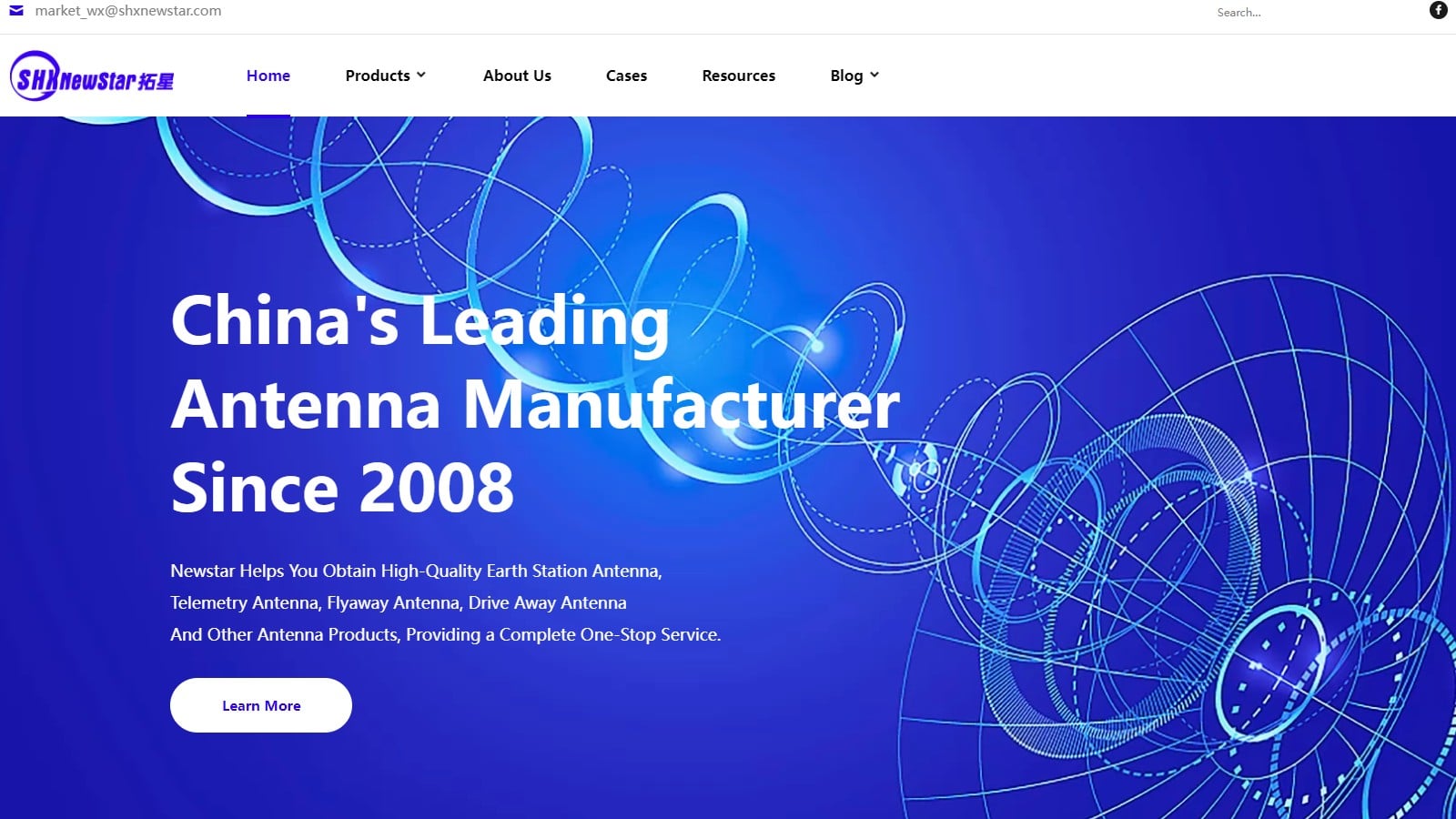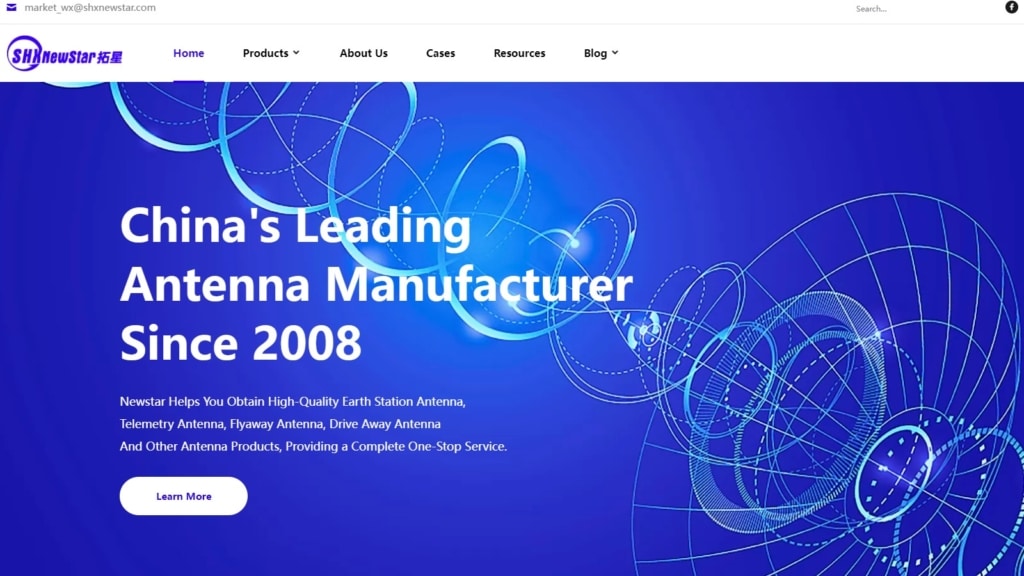 Introduction:
Newstar, established in 2008, provides microwave wireless converged communication network solutions including satellite communication antenna R&D, production supply, system integration, installation, commissioning, training and operational services to ISP's (Internet Service Providers), broadcasters, satellite network operators and system integrators.
Newstar, a fully licensed manufacturer and service provider in China, provides products and services in six major markets: Satellite Communications, Defence, Government, Enterprise, Broadcast, Internet, with its in-house Research& Development.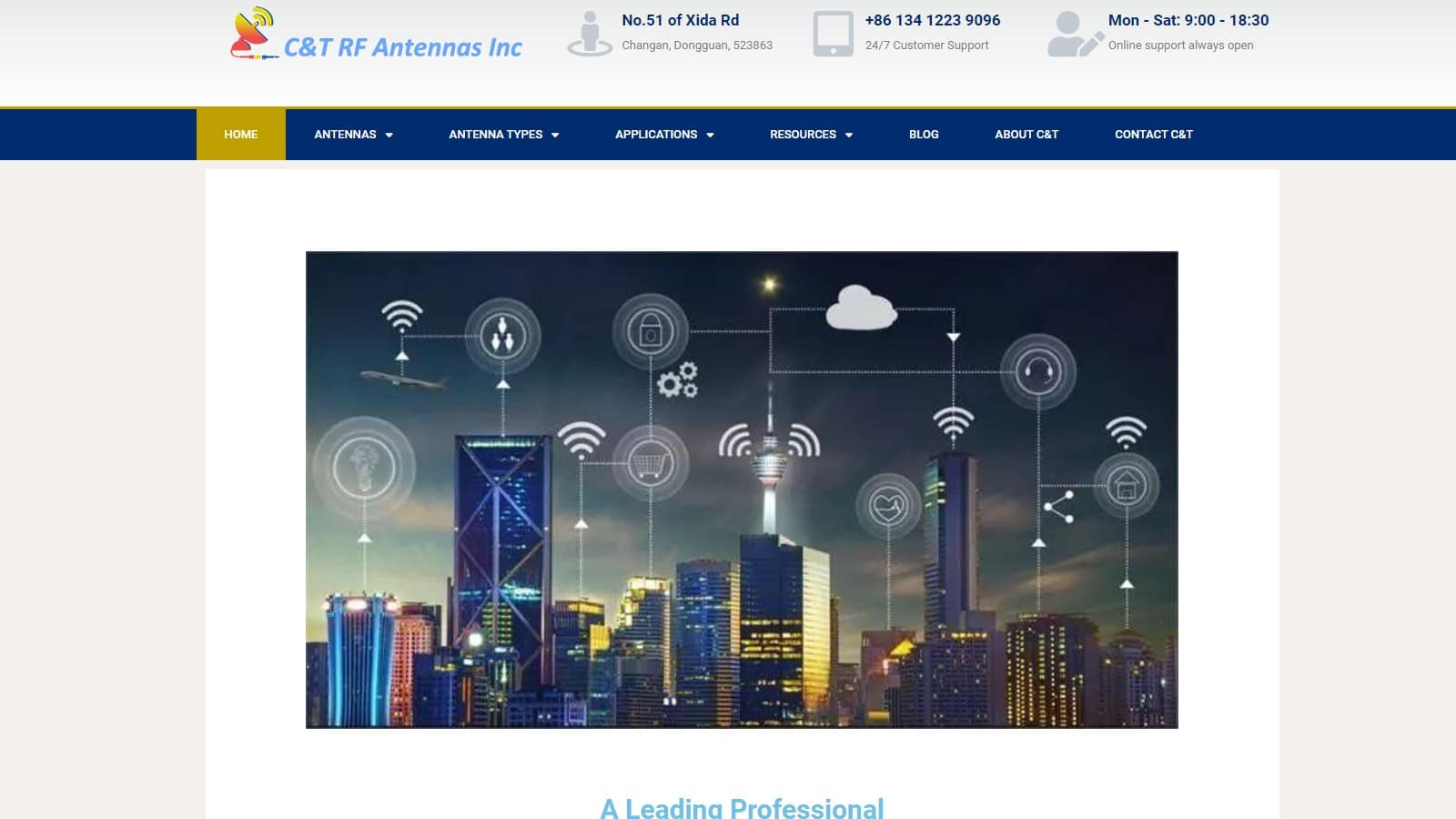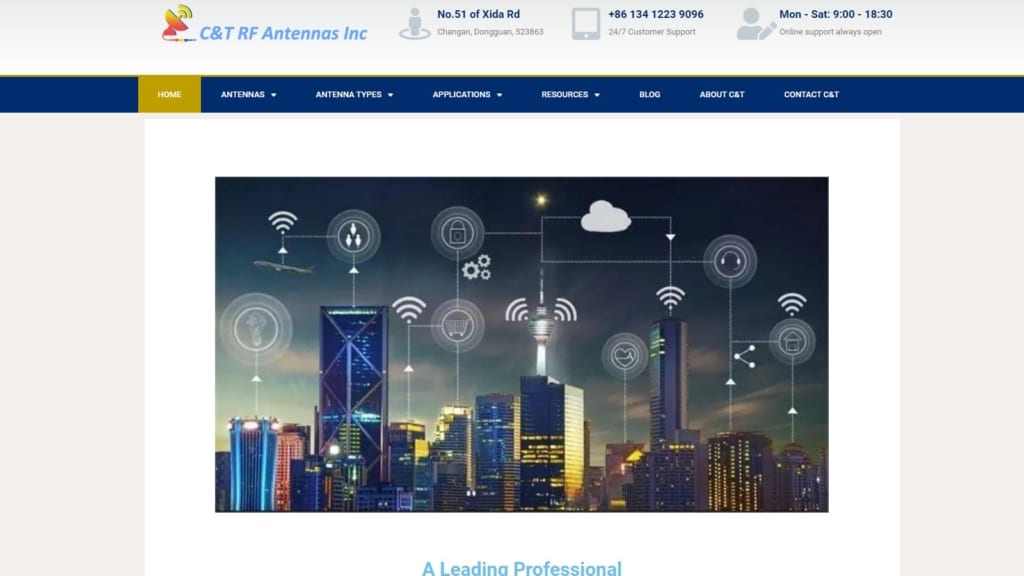 Introduction:
C&T RF Antennas Inc is an R&D intelligent manufacturer of IoT antennas. A high-tech antenna manufacturer integrating antenna research and development, production, and sales.
C&T RF Antennas Inc has been continuously committed to the research and development of antennas. With more than ten years of rich R&D experience in this field, we have developed a series of products, including 6G antennas, 5G antennas, 4G antennas, 3G antennas, GSM antennas, 2.4G Wi-Fi antennas, 5.8G Wifi antennas, NB-IoT antennas, GPS antennas, GLONASS antennas, GNSS antennas, Lora antennas, GPS/4G/Wifi three-in-one combination antenna, outdoor waterproof antenna and various connectors and cable assemblies for the IoT & M2M industries, Wifi & Bluetooth industries, Lora & ISM industries, GPS & GNSS industries.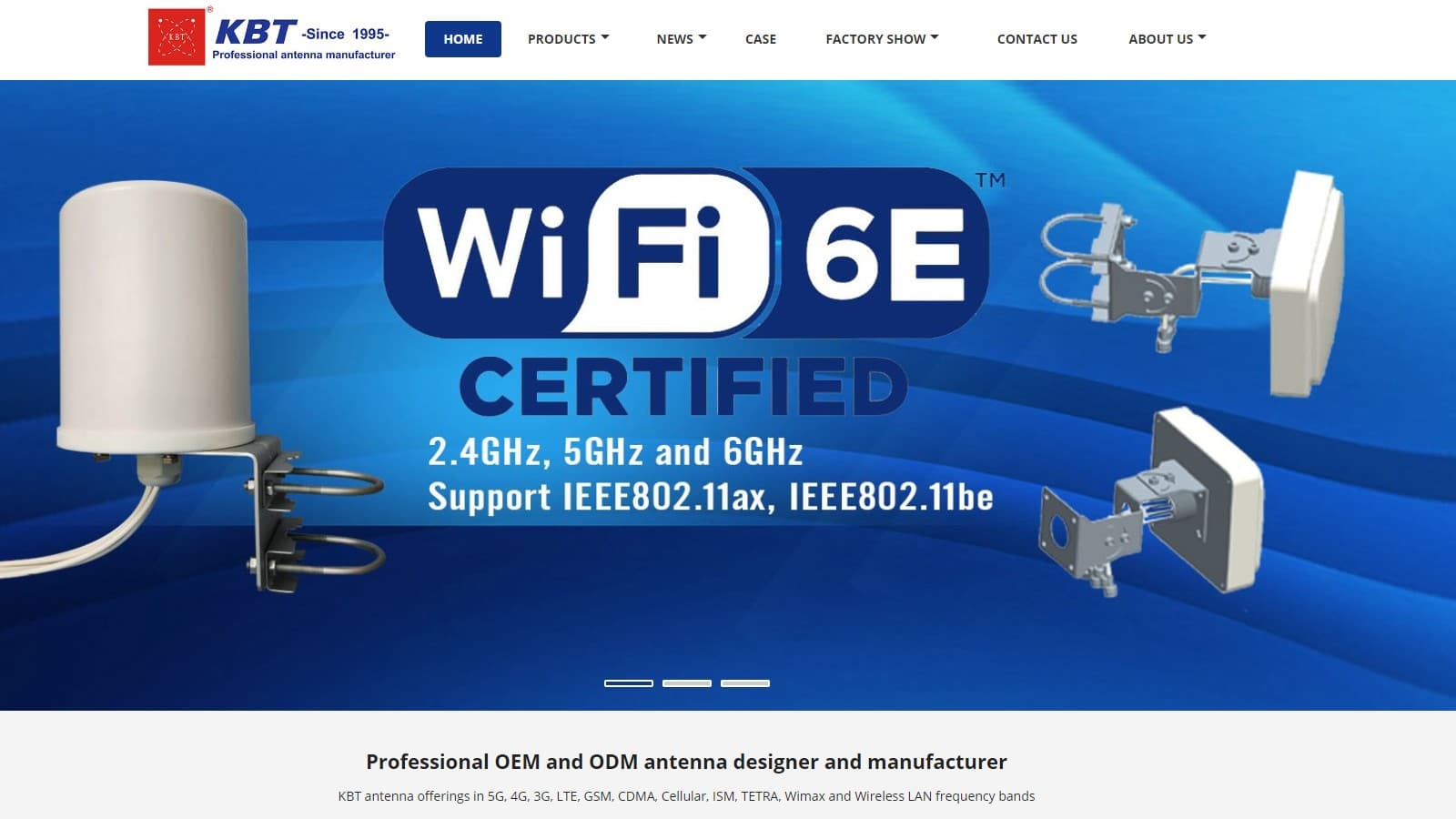 Introduction:
KBT has broad and deep product offerings in LTE, GSM, CDMA, Cellular, ISM, TETRA, Wimax and Wireless LAN frequency bands. They feel proud of our aggressive pace of innovation and patenting strategy.
Their R&D management has been proved highly successful and as a result they obtained lots of patents through self developed programs. You can require bespoke designs tailored to your project. Due to superior quality and stable performance, KBT's antennas have been used in Shenzhou V and Shenzhou VI spacecrafts in China's Manned Space Program.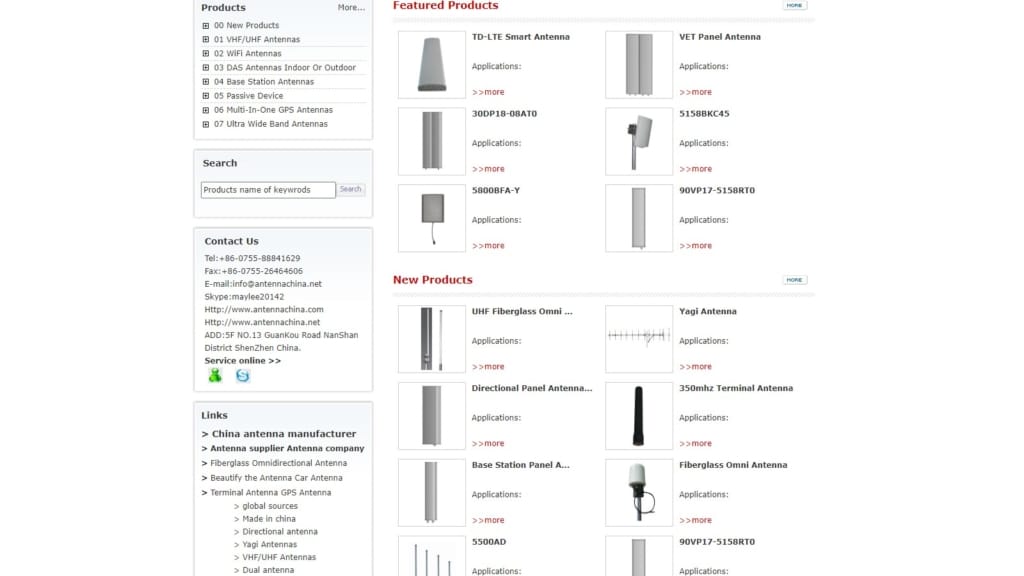 Introduction:
Shenzhen Ai Jia Communication Co., Ltd. was founded in May 2008, is a professional R & D, production and sales of telecommunications manufacturing enterprises, China has become a large supplier of communications antennas and communications products business agent. Corporate headquarters – Nanshan District, Shenzhen, Guangdong, China.
Company's products are mainly for the antenna, followed by RF passive components and many other varieties. One antenna products: 3G, SCDMA, CDMA, GSM and PCS base station antennas, repeater antennas; indoor coverage antenna; broadband antenna; terminal antennas;, microwave antennas; beautification antenna; 2.4/4.9/5.1/5.5/5.8GHz WLAN , WiFi antenna, 1.5/2.6/3.5GHz WiMAX, fixed wireless access antennas; RF passive components are: splitter, couplers, filters, diplexers, circulators, isolators, lightning arrester, combiners, etc. .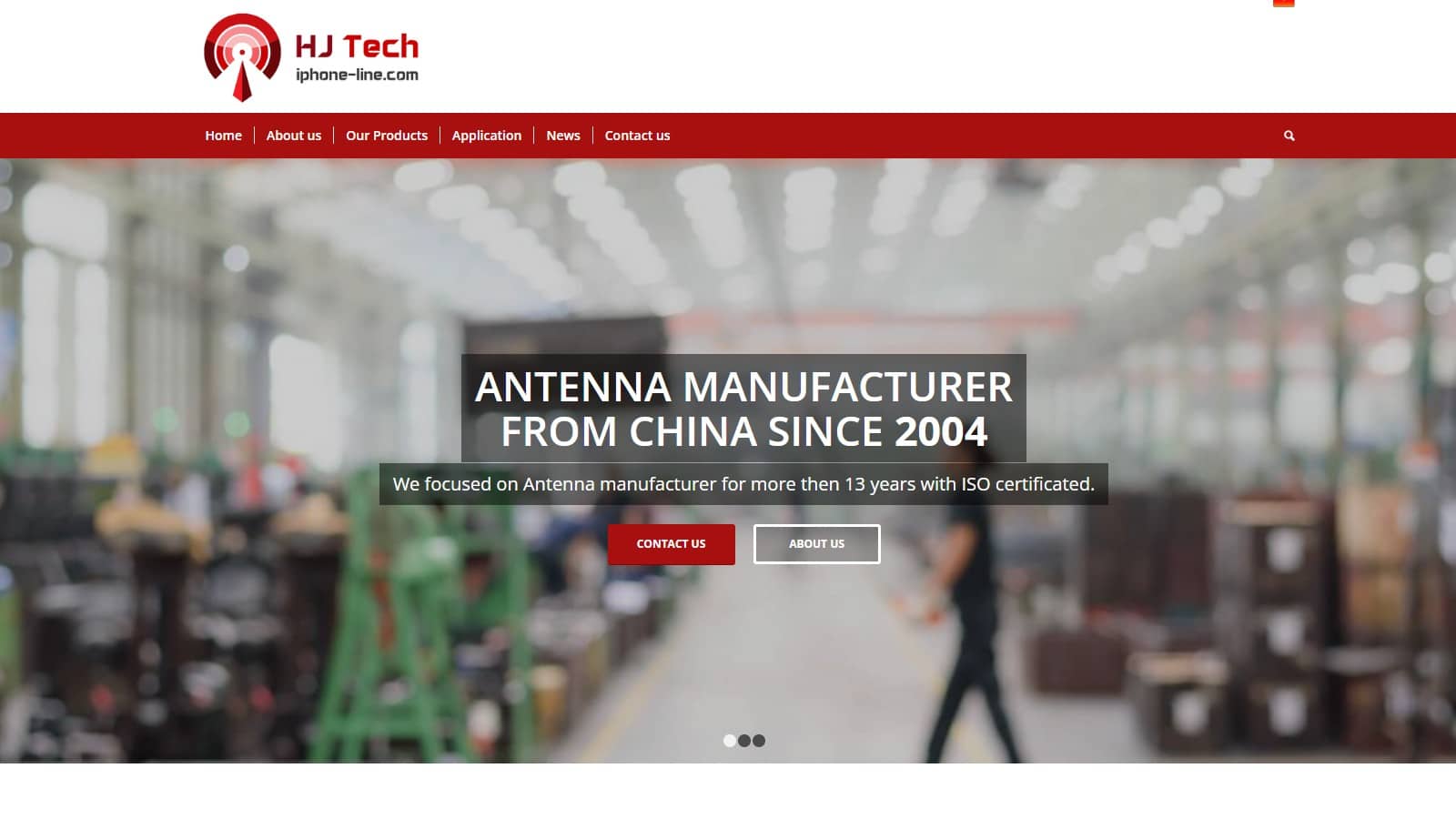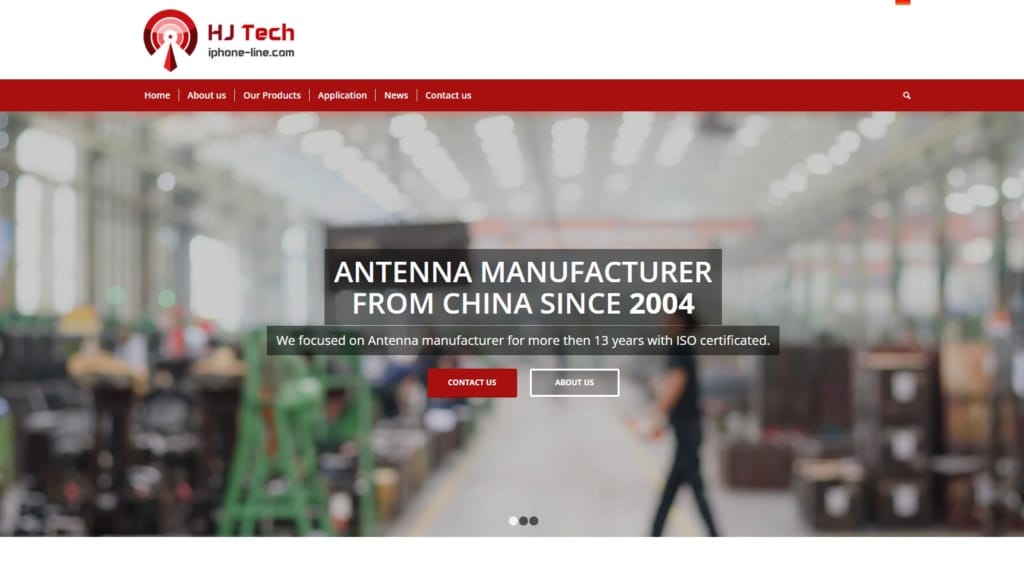 Introduction:
HJTech was found in 2009 and rename to Dongguan HJ Technology Co. Ltd in 2015. We specilize Antenna Manufacturing, R&D and sales for more then 13 years. Their products range include Precious Electronic Connectors (USB, HDMI, SIM Card, etc) , RF Coaxial Connector (SMA, SMB, IPEX, F type, N type, TNC, BNC, etc) , FPC Cable and variety of Internal & External Antenna with wide Band range, which include 2.4 G, 5.8G, 3G, 4G and so on.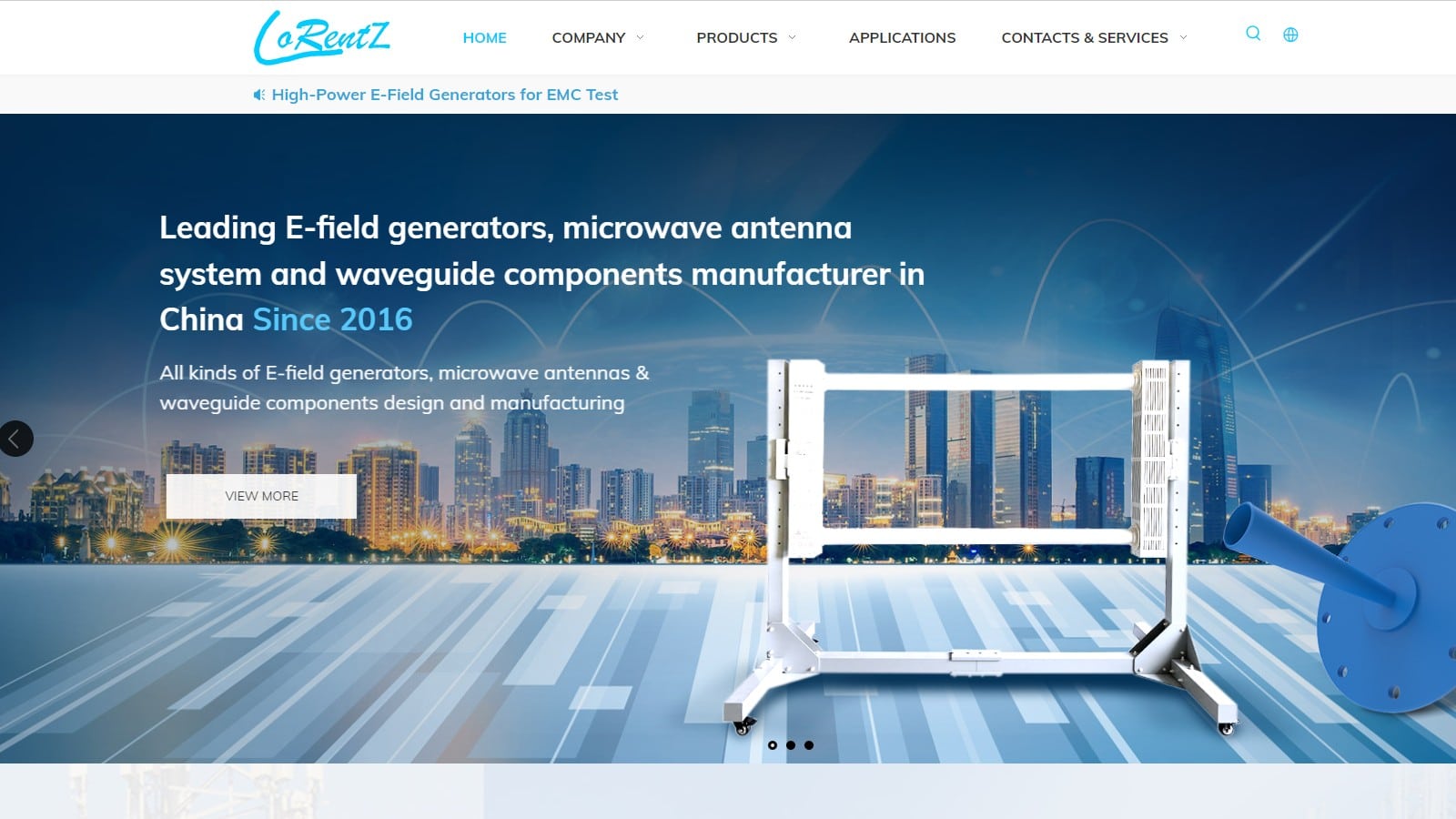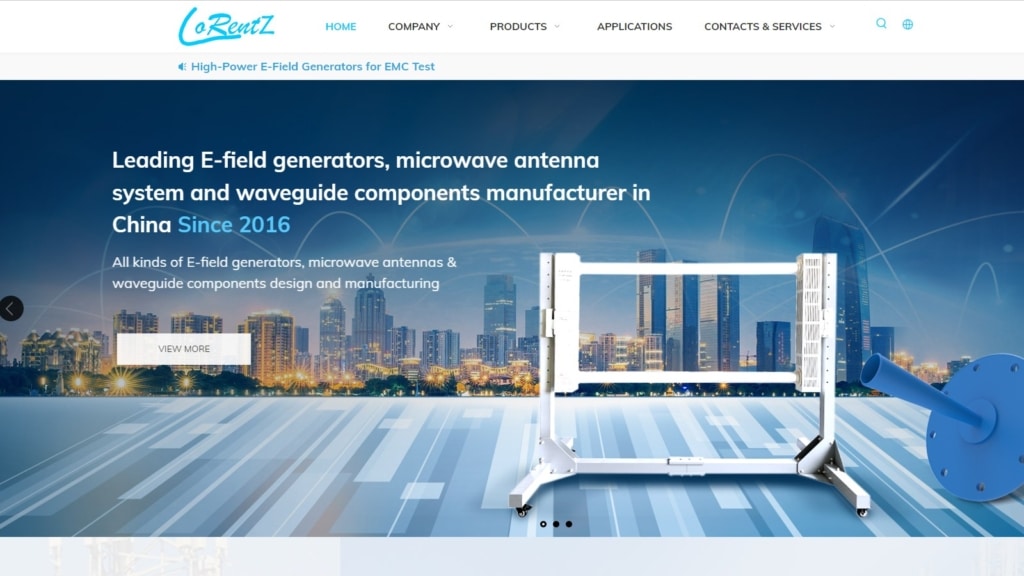 Introduction:
Lorentz is specialized on microwave measurement antennas and microwave components, such as standard gain horn antennas, open-ended waveguide probes, waveguide components, precision coaxial testing cables and other products, and more featured products such as dual-polarized waveguide probes (XPD ≥35 dB) and high-power electric field generators up to 100MHz.
Their core team has rich experience in antenna design and production to meet the different customization needs of customers.In 2022, Lorentz Lorentz EM Technology Co., Ltd. was established, focusing on the international expansion of EMC antenna and other products.
If you are looking for a suitable china antenna manufacturer for your project, then please contact us for the latest news, we will reply within 24 hours!