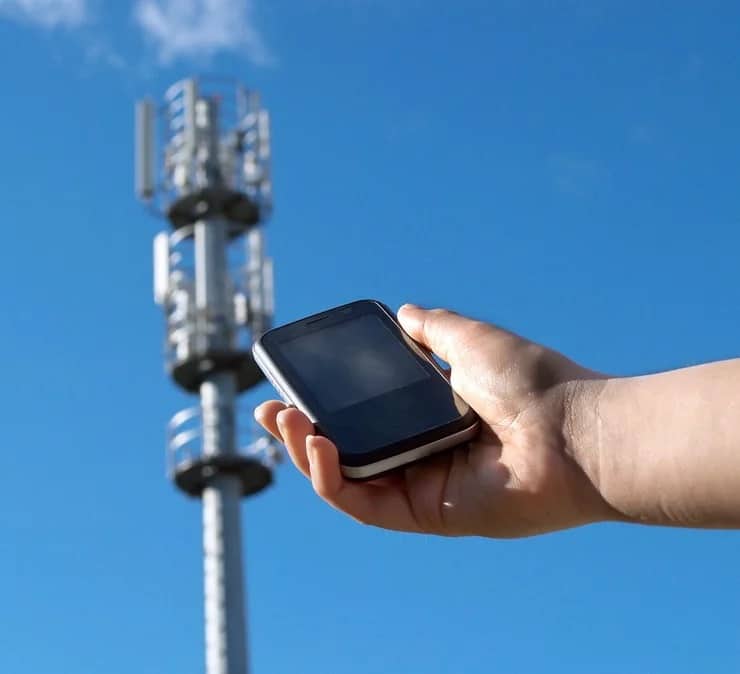 Missed calls, poor voice call quality, and slow data speeds can be extremely frustrating and make life extremely inefficient in this modern fast paced world. Cell phone signal boosters can be the perfect solution for this. A cell phone signal booster is a device or system that can boost weak signals from outside and provide faster data speeds and better call quality. In this article, an introduction to cell phone signal boosters and their benefits as well as a few of the top cell phone signal booster manufacturers in USA will be discussed.
What is a cell phone signal booster?
A cell phone signal booster amplifies or boosts weak cellular signals for use by cell phones, tablets, and other cellular connected devices within an area to have better coverage with fewer dropped calls, improved voice quality, better data speeds, etc. A cell phone signal booster works by pulling in cellular signals from the nearest cell tower, amplifying them, and then rebroadcasting those signals so that the cellular devices can pick up these boosted signals.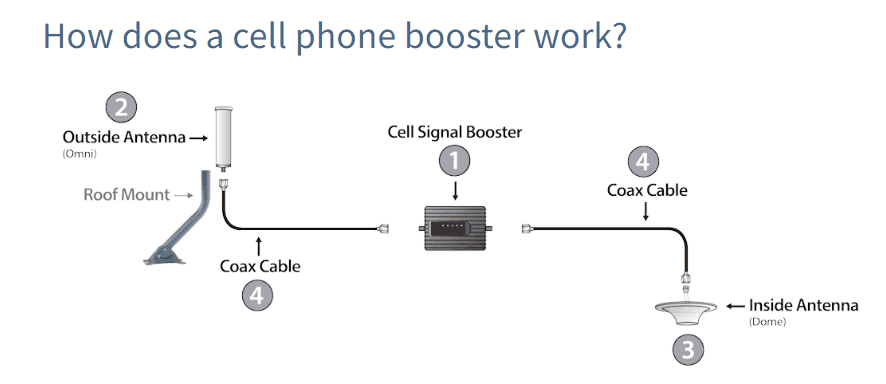 Most signal boosters function with three main components. The outside antenna, the amplifier, and the inside antenna. The outside antenna communicates with the nearby cell tower to capture weak cell signals from the cell tower and access the voice and data signals. The amplifier amplifies and boosts the received signals and passes them along to the inside antenna. The inside antenna rebroadcasts the enhanced signal into the space for cellular devices to use. There are different cell phone signal boosters mainly for houses and vehicles and they can be portable units or permanent fixtures. Home cell signal boosters improve indoor space signal conditions ranging from a room to an entire house.
Benefits of a cell phone signal booster
Cell phone signal boosters offer various benefits beyond enhanced communication. They improve call quality and reliability, especially in rural areas or far from cell towers. In emergencies, they ensure a dependable connection to authorities. Boosters also provide faster data transfer, streaming, and internet access. They can conserve battery life by reducing the device's need to constantly search for signals. Additionally, boosters improve quality of life by maintaining connectivity with one's network, aiding in emergencies, and enhancing security through reliable connections to alarm and monitoring systems, ultimately providing users peace of mind.
Top Cell Phone Signal Booster Manufacturers and Suppliers in USA
1. Wilson Electronics


Wilson Electronics is one of the leading manufacturers of cellular repeater technology. Based in Utah and Texas in USA, with over 30 years of experience, Wilson Electronics has expanded globally and established their centers in Canada, Asia Pacific, Latin American, and African regions as well. Wilson Technology has optimized wireless communication with its patented technology and manufactures both weBoost and WilsonPro brands.
WeBoost provides premium boosters for small scale applications like improving signals in homes, small businesses, and vehicles while Wilson Pro targets enterprise solutions for commercial businesses and carrier networks. WeBoost is a cell signal booster that is designed, built, supported, and shipped from a U.S. factory. They have a wide spectrum of cell booster products that can be used for homes, vehicles, or even for corporate level applications. Their booster work on every network including 5G and works well on any cellular carrier in US like T-mobile, AT&T, Verizon, etc. They provide other related accessories as well as customer support when selecting a cell booster device.
2. SureCAll


Based in Fremont, California, SureCall is also another giant manufacturer in the cell phone signal booster category. Their impressive clientele of NASA, U.S. Forest Services, Duke University, Marriott, HP, and Chrysler validate the quality of their products.
SureCall provides cellular signal boosters for homes and cabins, vehicles, offices, and large buildings as well as for network infrastructure. They also provide the necessary accessories, customer service, and also installation support. Their signal boosters are compatible with any network generation like 3G, 4G, 4G LTE, and 5G as well as with any cell carrier like Verizon, AT&T, T-Mobile, US Cellular, Straight Talk etc. SureCall is at the forefront of innovation and was the first to come to market with a 5G compatible cell signal booster. Their cell signal boosters are powerful, cost effective, and have an industry-best three year guarantee.
3. WeBoost


Headquartered in St. George, Utah, WeBoost is a subsidiary of Wilson Electronics and offers cellular signal boosters for any scope of the project, whether it is for homes, businesses, or vehicles. Their products are designed, assembled, and tested in USA. WeBoost signal booster extends battery life, works with all cellular devices on all cellular carrier networks approved by FCC in North America and provides reliable connectivity.
WeBoost was the first company to design, build and market home signal boosters in USA and Canada as well as the first company to develop in-vehicle cell phone boosters. Amazon, BestBuy, Walmart, Crutchfield, and Subaru are just a few of the impressive clinets of WeBoost. WeBoost provides all booster related accessories, and customer support and they even have a WeBoost App that makes their services more convenient for users.
4. Nextivity


Nextivity, based in Sand Diego, California is an industry leader in intelligent cellular coverage solutions and is used by over 200 mobile network operators in over 100 countries. Besides their headquarters in USA, they are also established in Europe, Asia, and Australia. Their CEL-FI product line is innovative and is built with the IntelliBoost processor and WAVE software, providing signal gain with 3 times more coverage for voice and data as well as having a no-noise guarantee. They have products that fit any application from residential use, marine and vehicles, small businesses, and enterprise level. Nextivity cellular signal boosters are easy to install with their intelligent and dynamically self-configuring wireless system. Their products are also cost-effective.
5. Waveform


Waveform, headquarters in Irvine, California, and established in 2007 provides amplification and signal booster solutions to improve wireless cell and data reception in homes, offices, and well as vehicles. They have signal booster kits for all applications and provide a comprehensive guide to select the best option for a specific application.
There are different cell phone signal boosters available based on the size of the area requiring coverage and also depending on the current signal reception level in the area. They have a wide range of products serving consumer and commercial level kits as well as enterprise solutions.
Waveform also provides custom system designs for enterprise level applications using active, hybrid, and passive DAS technology covering from 50k sq. ft. to 1 million sq. ft. They provide nationwide installation services for the custom-built designs and have fast deployments. US airforce, Tesla, SpaceX, Starbucks coffee, Yahoo, and Stanford University are just a few of the impressive customers that have trusted the services of Waveform.
6. Uniden


Uniden, based in Champlain, New York is also another leading company for cellular signal boosters. Their plug and play units provide solutions for rooms, small homes and offices, large homes and offices as well as vehicles. They use advanced technology and provide products with unbeatable value. Their signal boosters provide an ultra-fast wireless connection that supports crystal clear phone calls as well as lightning-fast data speeds.
Uniden products work on all 3G and 4G networks and all cellular service providers. Their customer support is also impressive with their expert support specialists available on all 7 days. Their plug and play units are extremely easy to install and they have a 60 days risk free guaranteed service for their solutions.
7. SignalBoosters

SignalBoosters, based in Texas is a leading supplier of cellular and RF accessories. They provide all types of products like cellular routers, portable signal units, and antennas,. Their products are of high quality and reliable providing 1 year warranty as well as a 30-day money back guarantee service. They supply products from high quality brands like WilsonPro, SureCall, HiBoost, weBoost, Cel-Fi, Uniden, and Bolton Technical.
They have a wide spectrum of products in their cell phone signal boosters category and provide solutions for homes, vehicles, and businesses. They have installation services for home and office cell phone signal booster products. In their business range of cell phone signal boosters, they have separate series of products for offices, large commercial spaces, fleet vehicles, M2M and IoT applications, public safety applications, etc. IKEA, Alameda Health System, Blue Bell, Apple, CocaCola, Nike are a few of their clients who rely on their solutions.
Conclusion
Cell phone signal boosters are an effective way to improve the signal strength of a cell phone. They can help improve voice call quality as well as the speed and reliability of data connection. There are multiple companies that provide solutions for cell phone signal boosters and each of them has a wide range of options to choose from. It is up to the customer to select the cost-effective solution that will provide the optimal service for the requirement.