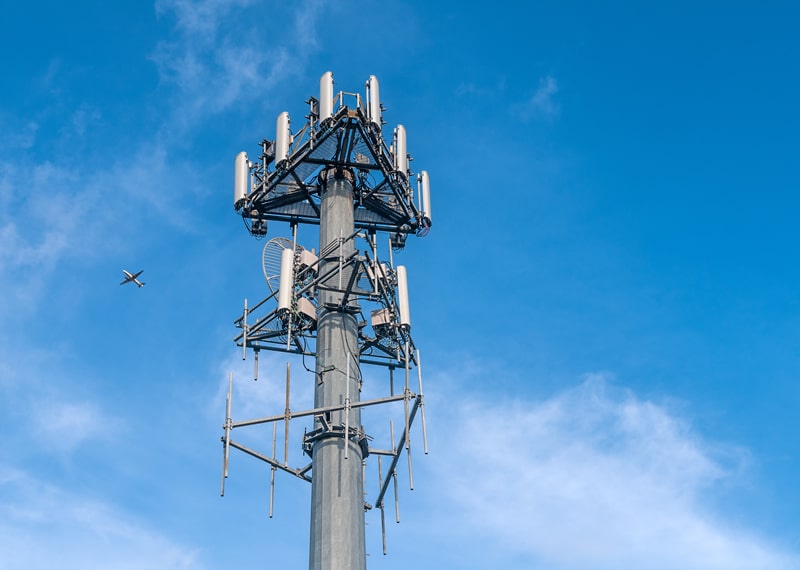 With the advancement of modern technologies based on the Internet of Things (IoT), antennas have increasingly become popular among different industries. The main functions of an antenna are to transmit and receive electromagnetic waves. Thus, antennas are a vital part of today's embedded systems.
Antennas are categorized depending on their size, shape, operating frequency, type of polarization, radiation pattern, and application. They are also technology dependent, which means that antennas used to transmit or receive microwave frequencies cannot be used to transmit or receive infrared waves. This is because each antenna is built differently.
We have wrote the article about top antenna manufacturers in the world before, now in this article, we are focusing on the antenna market in the UK. The antenna market in the UK is competitive and delivers a wide range of applications. The market is segmented depending on the antenna type, application, and product type. The UK market is comprised of competitive leading antenna manufacturers, who are showing a growth of 10% on the previous year according to Plimsoll analysis. The UK antenna market has a growing trend due to the increase in the use of wireless connectivity solutions and would see a further increase in market value. The major challenges faced by the UK antenna market are the increase in the cost of indoor antenna technologies and political instability within the region. Let us investigate some of the leading antenna manufacturers in the UK market.
1. Antenova
Founded: 1999
Country: United Kingdom
Employees: 50-100
Company Profile: Antenova is a leading antenna manufacturer based at Cambridge, UK, and has branches in USA, China, and Japan. They are a global leader in manufacturing high-performance antennas for the wireless market. They also design antennas with lower power consumption, and reliable performance, which are crucial for M2M and IoT applications. Apart from high-performance antennas, they provide bespoke antennas for large projects and knowledge and expertise services to their customers. Antenova manufactures antennas that are focused on cellular technologies, NB-IoT, Wi-Fi/Bluetooth, Ultra-Wide Band (UWB), and ISM (Industrial, Scientific, and Medical) frequencies. Refer to their wide portfolio for more information on their products.
2. Panorama Antennas
Founded: 1947
Country: United Kingdom
Employees: 150+
Company Profile: Panorama Antennas is a family-owned private business that has been operating for generations. They have expanded their operations starting from the UK to the USA, France, Australia, and Singapore. Panorama Antennas are specialized in providing antenna solutions such as public safety antennas, their trademark Sharkee antennas, enterprise antennas, and rural connectivity antennas. These antennas operate in different frequency ranges, such as LTE & Cellular frequency, VHF/UHF frequency, Wi-Fi/Bluetooth, and LPWAN frequencies. You can visit their website to get more information about their new products and information about the latest news about the industry.
3. RF Solutions
Founded: 1992
Country: United Kingdom
Employees: 11-50
Company Profile: RF Solutions is based in Sussex, UK with a campus spreading over 20,000sqft purpose-built factory. They have been one of the leaders in the RF industry since their commencement in 1992. RF Solutions is an ISO9001:2015 certified company providing solutions in antennas, and RF appliances such as radio modules, cables, and adapters. When it comes to antennas, they provide antenna solutions that operate in the ranges of 433 MHz, 868 MHz, 915 MHz, Wi-Fi, and GSM frequency ranges. Apart from high-end products, they also provide RF solutions installer club to collaborate with other customers and a 5-year warranty on their products. You can find more information on their website.
4. PPM Systems
Founded: 1994
Country: United Kingdom
Employees: 150+
Company Profile: PPM Systems is a UK-based RF solution provider addressing different sectors of the industry. They are specialized in providing services for government and military services. Their expertise includes providing RF over fiber cables, antenna solutions, IED/ECM defeat systems, and RF signals and analysis. When it comes to antenna solutions, they are providing aerostat antennas, airborne antennas, jamming antennas, and steered array antennas. You can visit their website to access their product portfolio.
5. European Antennas Ltd
Founded: 1990
Country: United Kingdom
Employees: 150+
Company Profile: European Antennas Ltd which was founded in 1990, is now under the name of Chelton Ltd from 2021 onwards as a part of the Transdigm Group Inc. They are delivering RF applications to different industries including military, commercial, satellite, and security. They are exclusively specialized in developing antennas. These antennas have a wide range of operating frequencies from 100 MHz to 40 GHz, and into Ultra-Wide Band frequencies. Chelton is an NQA ISO9001, ISO14001, and ISO45001 accredited company. You can look at their website for their wide range of products.
6. Badland
Founded: 1972
Country: United Kingdom
Employees: 50-100
Company Profile: Badland is a reputable UK-based antenna producer. At their initial stage, they aimed at producing TV aerials that overruled more than 80% of the market share of the UK at that time. With these roots, Badland has evolved into a modern antenna manufacturer catering to the needs of modern wireless technologies. Their current portfolio includes a different range of antennas including embedded antennas, cellular technology antennas, GNS antennas, and IoT-based antennas. Major markets of Badland include the film industry, police forces, and the Ministry of Defense. Moreover, you can choose the right antenna for your desired application, by simply selecting the application. For more details, you can visit their website.
7. Renair Antennae
Founded: 1994
Country: United Kingdom
Employees: 150+
Company Profile: Renair Antennae is a leading antenna manufacturer based in London, UK. They have been operating for more than 30 years while providing quality antenna solutions to different markets. These markets include, the automotive industry, security industry, medical industry, and traffic management services. Renair Antennae is an ISO9001:2018 certified company with a wide portfolio of antenna solutions. You can find the list of all the antenna group solutions provided by Renair Antennae on their website.
Conclusion
In this article, we discussed some of the leading antenna manufacturers in the UK. You can use this short article as a reference to choose the most suitable manufacturer for your solution by considering various aspects of antenna design and cost. In conclusion, the antenna manufacturing industry in the UK is blooming and growing rapidly.