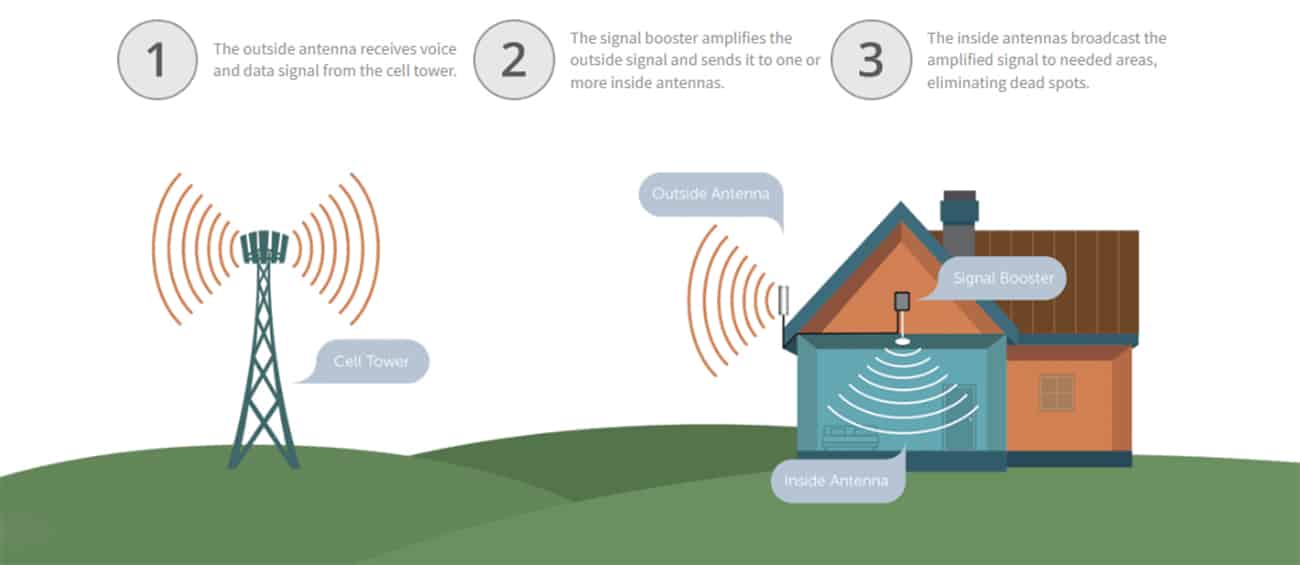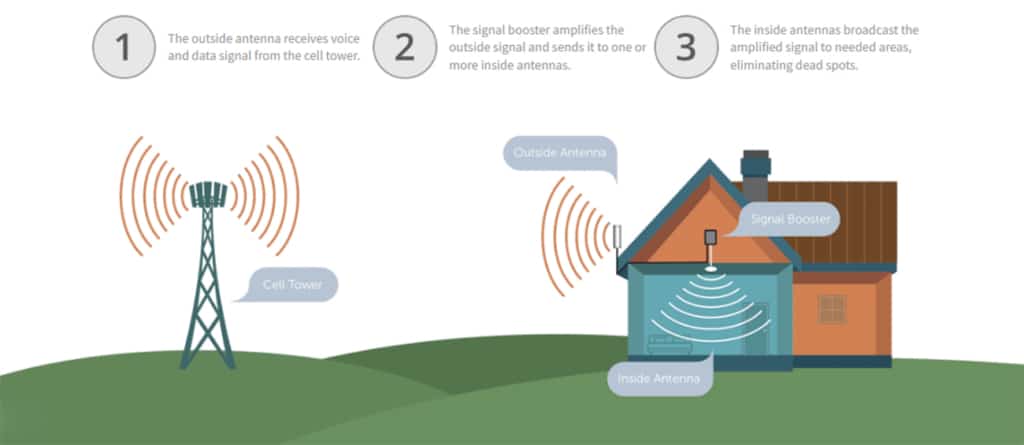 In today's world, stable wireless communication is crucial for industries and domestic applications. Cell phone signal boosters reduce poor signal strengths, dropped calls, and slow data speeds, enhancing efficiency. In this article we will briefly discuss signal boosters and their antennas, exploring types, benefits, and top manufacturers and suppliers in the USA.
What is a cell phone signal booster?
A cell phone signal booster is an electronic device designed to enhance existing networks by amplifying weak signals and improving call quality, signal strength, and data speeds. It captures external signals, amplifies them, and rebroadcasts them to nearby cellular devices. This reduces missed calls, slow data rates, and other issues. Cell signal boosters comprise outside antennas, amplifiers, and indoor antennas. Their demand has risen due to the increasing reliance on communication in industries and personal work. Improved signal strength enables faster, more reliable communication, essential during emergencies. Signal boosters are vital for remote workers in rural areas and help save battery health and performance by reducing constant signal searching.
What is cell phone signal booster antenna? Definition, types, and benefits.
In a cell signal booster system, the antennas can be the most crucial part as it is the part that essentially touches the network. Using the right antenna can make a huge difference. There are two main types of antennas, outdoor and indoor. The combination of antennas chosen will depend on the application it is used for. For outdoor cell booster antennas most of the time omnidirectional, monopole, log-periodic, or yagi antennas are used and for indoor antennas, usually omnidirectional or panel antennas are used.
Log-Periodic antennas
These are triangular-shaped antennas with a wider bottom and a narrower opposite end. LPDAs are directional antennas and they are usually targeted toward a specific tower to bring in the signal.
Yagi antennas
Commonly known as an ariel, these are very effective for directional, long range reception.
Omnidirectional
These are mostly recommended in areas where there are multiple signal towers situated in the surrounding. They can bring in signals from 360 degrees but might have slightly a lower gain than directional antennas. Omnidirectional antennas can come in different shapes like domes, circular, horizontal whip shaped etc.
Panel antennas
Typically, shaped like a flat square, these are commonly used for indoor antennas. Panel antennas usually have a narrow focus of around 45- 70 degrees and thus has a stronger signal strength at the source, closer to the panel. These are best used in situations where the connected devices are in line of sight with the antenna.
Parabolic antennas
These are antennas with high directivity and high gain. They produce the narrowest beam width compared with other antenna types. These are ideal for remote areas where there is no tower nearby. But due to their high directivity and narrow beam width it can take longer to calibrate.
These are some of the most popular types of antennas used for cell phone signal boosters. The benefits of using a specific type of signal booster antenna depend on the application. As discussed above, for example, in an area with cell signal towers located all around, an omnidirectional antenna would be the best. Similarly, if the tower is in a specific direction, directional antennas like parabolic, Yagi, or LPDA would be more beneficial.
Top Cell Signal Booster Antenna Manufacturers and Suppliers in USA
1. Wilson Electronics
Based in Utah and Texas, Wilson electronics is one of the leading manufacturers of cellular repeater technology. They have established centers in Canada, Asia Pacific, Latin American, and African regions as well. Wilson Technology has optimized wireless communication with their patented technology and manufactures both weBoost and WilsonPro brands.
WeBoost provides a wide range of booster antennas like Yagi antennas, NMO antennas, magnet mount antennas. WilsonPro also provides booster antenna types like yagi antennas, wideband directional antennas, pole mount panel antennas, desktop mount antennas, indoor wall mount antennas, and so on. With their readily available customer support and other required accessories, users can fulfill their requirements for signal booster antennas with Wilson Electronics.
2. SureCall
Based in Fremont, California, SureCall is also another leading manufacturer for signal boosters and their accessories. SureCall provides cellular signal boosters for homes and cabins, vehicles, offices and large buildings as well as for network infrastructure. They also provide the necessary accessories which include a wide variety of signal booster antennas. They manufacture and supply both indoor and outdoor antenna types. A few types of antennas they provide are ultra-wideband indoor directional panel antennas, ultra-wideband indoor ultra-thin omnidirectional antennas, ultra-wideband outdoor directional yagi antennas, ultra-wideband outdoor omnidirectional antennas etc. They provide antennas that are extremely refined and tailored to fit specific applications. They also have a range of signal booster antennas that can be used on vehicles like exterior magnet mount vehicle antennas, interior vehicle patch antennas, exterior NMO permanent vehicle antennas etc.
3. WeBoost
Based in St. George, Utah, WeBoost is a subsidiary of Wilson Electronics and offers cellular signal boosters and relevant accessories. Their products are designed, assembled, and tested in USA. weBoost provides multiple options for signal booster antennas. Under their accessories it is possible to find in-building antennas, mobile antennas, and outdoor antennas. weBoost manufactures various types of in-building antennas and provides users with a wide spectrum of options like wall mount antennas, panel antennas, dome antennas, etc. They provide both directional as well as omnidirectional antennas for outdoor antennas. Yagi antennas, LPDA antennas, Panel antennas, and more options are available.
4. Nextivity
Based in Sand Diego, California, Nextivity is a leading company providing intelligent cellular coverage solutions and is used by over 200 mobile network operators in over 100 countries. They are globally dominant as well, being established in Europe, Asia, and Australia. Nextivity has a huge selection for both outdoor antennas and indoor antennas. As outdoor antennas, they provide wideband directional antennas, LPDA-R antennas, wideband MIMO panel antennas, wideband panel antennas, and wideband omni donor antennas. Multiple different types of indoor antennas are also available like whip antennas, wideband panel antennas, patch antennas, SISO omni antennas, etc. Under each of these categories, a wide range of options are available to select the one that best fits the application. Besides indoor and outdoor antennas, mobile antennas are also available for signal-boosting purposes like trucker antennas, marine antennas, and more.
5. Waveform
Based in Irvine, California, Waveform provides signal boosters and all relevant accessories including antennas. Similar to other leading signal booster antenna providers, Waveform also has a broad array of different types of antennas. They have dome antennas, log period antennas, grid parabolic antennas, panel antennas, etc. They provide both directional and omnidirectional antennas catering to both outdoor and indoor antennas in signal booster systems. Waveform is a supplier of popular brands like Cel-Fi, SureCall, weBoost and WilsonPro antennas. Whether it's 4G/ 5G or whatever the frequency range, Waveform has antenna options for all applications.
6. Bolton Technical
Based in Stafford, Texas, Bolton Technical is a leading supplier of antennas, cables, and accessories. They have expanded their operations to countries like Canada and South Africa as well. They provide all types of products like portable signal units, antennas, mounts, cable and lightning surge protectors, etc. Bolton Technical has a galore of antennas ranging from 5G antennas to outdoor antennas to indoor antennas. Users can select from a wide variety of options like Yagi antennas, LPDA antennas, cross-polarized 5G antennas, ultra-high gain parabolic antennas, dome antennas, etc.
7. Laird Connectivity
Based in Akron, Ohio, Laird Connectivity is a leader in wireless connection and innovative IoT solutions. They are also globally dominant with branches in UK, Taiwan, and 4 design centers worldwide. They provide high performing, reliable products and excellent customer support. Laird connectivity provides multiple antenna options for signal booster systems. Users can choose from a variety of internal and external antenna options. With years of experience, they also provide custom antenna design and installation.
Conclusion
Cell phone signal boosters have become a necessity for people who rely heavily on stable communication and are currently faced with weak cellular network connectivity. Different types of signal booster antennas are available and some of the top manufacturers and suppliers for them have been discussed here. In conclusion, it is up to the user to decide what type of signal booster antenna to use depending on a lot of different factors like distance to cellular towers, the strength of incoming signal, layout, and location.