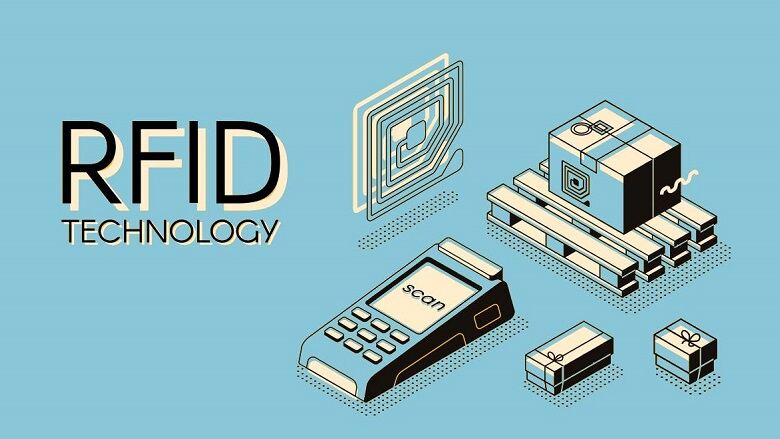 RFID or Radio Frequency Identification technology is widely used in short-range communication needs and applications. RFID readers play a major role in these RFID systems. Therefore, it is mandatory to have an understanding of different types of RFID readers in the market and RFID reader manufacturers in the market.
What is RFID?
RFID stands for Radio Frequency Identification and is a form of realizing wireless communication from one point to another. RFID technology is based on electromagnetic and electrostatic coupling in the radio frequency spectrum. RFID technology is mostly used in short-range applications, such as object detection, authorization applications, and asset tracking applications. A RFID system consists of three main components namely,
Antenna
Transceiver
Transponder
The Antenna and the Transceiver are collectively known as the RFID reader. Transponder is the RFID tag itself. Moreover, RFID systems can also be divided based on their operating frequency. Some of this generic classification include:
Low-frequency RFID system: operating in a range from 30 kHz to 500 kHz.
High-frequency RFID system: operating in a range from 3 MHz to 30 MHz.
UHF RFID system: operating in a range from 300 MHz to 960 MHz.
Microwave RFID system: they are operating in a range of 2.4 GHz.
What is an RFID Reader?
As mentioned above, RFID reader is composed of the antenna and the transceiver. These are broadly divided into two main types depending on their mobility as stationary readers and mobile readers. Apart from this classification, there are vehicle-mounted RFID readers as well. They are mostly used in asset tracking applications and are mounted in vehicles such as trucks and forklifts.
Usually, RFID readers are capable of sensing multiple RFID tags within the detection range. Therefore, RFID readers must read each tag sequentially to distinguish between individual tags. To overcome this scenario, RFID readers use anti-collision algorithms such as Probabilistic Detection and Deterministic Detection.
Top RFID Reader Manufacturers in USA
Let us investigate some of the leading RFID readers in USA.
| | | |
| --- | --- | --- |
| Company | Headquarters | Foundation |
| Alien Technology | California, USA | 1994 |
| NXP USA Inc, | The Netherlands | 1953 |
| RFID Inc | Colorado, USA | 1984 |
| Zebra Technologies | Illinois, USA | 1969 |
| Impinj Inc | Washington, USA | 2000 |
| Gao Rfid | Ontario, Canada | 2006 |
| Brady ID | Massachusetts, USA | 1966 |
1. Alien Technology
Alien Technology is one of the leading RFID readers based in California, USA established in 1994. They are one of the trusted suppliers and manufacturers in EPCglobal Gen2 and ISO/IEC 18000-6c compliant UHF passive RFID solutions including transceiver chips, tags, inlays, and labels. They also manufacture both handheld and fixed RFID readers. They specialize in all the products related to RFID technology ranging from RFID ICs, tags, readers, and antennas. When it comes to RFID readers, they have ALR-F800-X and ALR-F800 readers with capabilities such as Power Over Ethernet (PoE).
2. NXP USA Inc
NXP USA Inc is a subsidiary of NXP Semiconductors. NXP Semiconductors is a global semiconductor manufacturer that has operated in more than 35 countries since 1953. They are based in the Netherlands. They provide services to industries such as the automation industry, communication infrastructure, mobile industry, smart cities, and smart homes. These services include application-specific products, ARM-based processors, communication interfaces, sensors, and RF solutions such as RFID. When it comes to RFID readers, they have their UCODE Rain RFID and HITAG readers. UCODE Rain RFID readers are aimed at providing services for the IoT (Internet of Things) industry and HITAG readers are low frequency RFID market. You can find more details on their official website.
3. RFID Inc
RFID Inc is an engineering firm specializing in providing RFID solutions and products. They are based in Colorado, USA, and have been providing their services since 1984. They serve industries such as the automation industry, tools and industrial, hospitality, medical appliances, transportation and logistics and mining industry. Their RFID product portfolio includes RFID tags, readers, interfaces, and different cabling accessories. When it comes to RFID readers, they also provide OEM RFID readers. These are available in frequencies of UHF 915 MHz, HF (High Frequency) 13.56 MHz, and LF 125 kHz. Also, they manufacture handheld, USB, and fixed RFID readers. Interestingly, there are also networkable models, meaning that we can employ networking technology such as Ethernet, to the RFID reader.
4. Zebra Technologies
Zebra Technologies is another leading wireless solutions provider and product manufacturer based in Illinois, USA since 1969. They operate in more than 120 countries with more than 6,500 unique patents. Zebra Technologies provides services to industries such as retail services, wholesale and distribution services, the healthcare industry, energy and utilities, the e-commerce sector, the public sector, and the banking sector. Their product portfolio ranges from mobile computers, printers, industrial machine vision and fixed scanners, kiosks, tablets, and RFID products. When it comes to, they manufacture both handheld and fixed RFID readers. Some of their handheld RFID reader series include,
RFD90 Ultra-Rugged UHF RFID Sleds
RFD40 UHF RFID Sleds
MC3300 RFID Series Mobile Computers
RFD8500 Handheld RFID/1D/2D Sleds
Also, some of their fixed RFID readers include,
FX9600 Fixed RFID reader
ATR7000 RTLS reader
FX7500 Fixed RFID reader
ST5500 Transition reader
You can find more details and the best application for each reader on Zebra Technologies' official website.
5. Impinj Inc
Impinj Inc is considered the world's largest in UHF Gen 2 RFID solutions for item-level and supply-chain applications. Impinj Inc was founded in 2000 and is based in Seattle, Washington, USA. Impinj provides services to different applications in industries such as Airlines and Airports, Healthcare, Hospitality, Manufacturing, retail, and Supply Chain & Logistics. When it comes to RFID readers, their Rain RFID readers provide a more robust capability to their IoT solution stack. These are, however, fixed RFID readers. There are two main products under this category namely, Impinj Speedway readers and Impinj R700 readers. Moreover, Impinj also manufactures RFID reader chips which provide a foundation for designing devices with embedded RAIN RFID read/write capability.
6. Gao Rfid
Gao Rfid is a leading RFID and BLE solutions provider based in Ontario, Canada. It was founded in 2006. Their products are currently deployed in more than 70 countries and are ranging from BLE gateways, beacons, and RFID readers and tags. Their RFID readers operate in UHF EPC Gen2, LF, and HF frequency ranges. You can find details about different types of RFID readers on their website depicting their product portfolio.
7. Brady ID
Brady ID provides identification security solutions for a wide range of industries. They are based in Massachusetts, USA, and were established in 1966. Apart from these security solutions, they are also providing Brady SmartID which is a custom Aerospace RFID solution. Apart from RFID readers, they also have custom Mobile RFID software. This software allows its customers to commission, read, and update RFID tags and databases making maintenance automated.
Conclusion
In this article, we discuss RFID readers and different types of RFID readers in the industry and market. Then we examined some of the leading RFID reader manufacturers in the market. With the knowledge provided in this article, you will be able to identify the best option for your RFID solution.