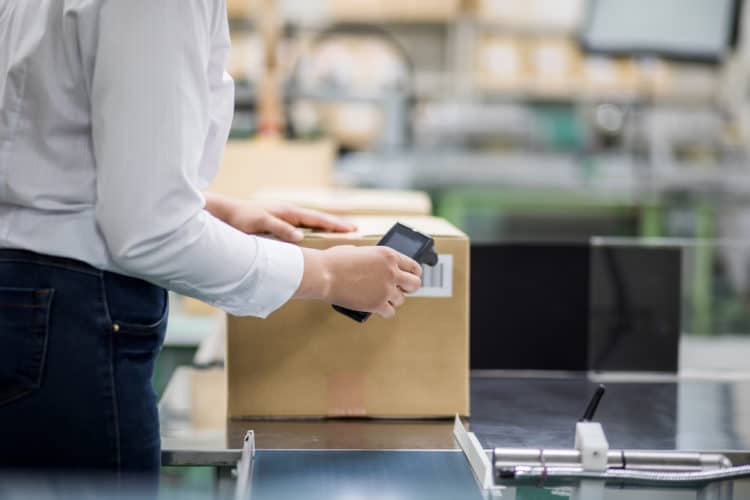 Radio Frequency Identification (RFID) technology is used in short-range communication applications. This RFID system is composed of tags where the information is stored. Therefore, it is mandatory to understand distinct types of RFID tag and label manufacturers in the market.
What is RFID?
RFID or Radio Frequency Identification is a technology widely used in short distance wireless communication. This technology is based on electromagnetic and electrostatic coupling in the radio frequency spectrum. RFID technology is used in applications such as object detection, authorization applications, asset tracking applications, and supply chain services. This technology is mostly effective over short distances but can be extended to achieve long distance applications as well. A RFID system consists of three main components,
Antenna
Transceiver
Transponder
These components are broadly categorized into two key components. RFID reader composes of the antenna and the transceiver. While transponder is referred to as the RFID tag. The type of RFID system is usually divided based on their operating frequency as follows:
Low frequency RFID system: from 30 kHz to 500 kHz
High frequency RFID system: from 3 MHz to 30 MHz
UHF RFID system: from 300 MHz to 960 MHz
Microwave RFID system: in the range of 2.4 GHz
What is an RFID Tag?
RFID tags are labels that use radio frequency to search, identify, track, and communicate stored detail in them onto RFID readers. This data can vary from serial numbers to a brief description of information. The reading range of these tags depends on many factors such as type of tag, type of reader, operating frequency, and interferences in the environment. RFID tags are composed of an IC, an antenna, and a substrate. RFID inlay refers to the part of the RFID tag which stores the information. This information can be either read-only or read-write.
There are two main types of RFID tags, namely, active and passive. An active RFID tag has its own power source, usually a battery. Therefore, these are usually bulkier, rugged, and more expensive, and hence not commonly used. However, they are used in medical monitoring and crowd management applications. Passive RFID tags do not have their own power source, instead, they rely on their reader to receive power via electromagnetic induction. Also, they do not require line of sight to a reader, but they have a short range compared to active tags. Passive RFID tags are commonly used in applications such as supply chain and inventory management applications retail, and manufacturing applications. There are also semi-passive RFID tags, where the circuitry is powered via a battery and the communications is powered by the RFID reader.
Top RFID Tag Manufacturers in USA
Now, let us survey some of the leading RFID tag manufacturers in USA.
| | | |
| --- | --- | --- |
| Company | Headquarters | Foundation |
| Alien Technology | California, USA | 1994 |
| NXP USA Inc, | The Netherlands | 1953 |
| RFID Inc | Colorado, USA | 1984 |
| Zebra Technologies | Illinois, USA | 1969 |
| Impinj Inc | Washington, USA | 2000 |
| Gao Rfid | Ontario, Canada | 2006 |
| Brady ID | Massachusetts, USA | 1966 |
1. Alien Technology
Alien Technology is a leading RFID system manufacturer based in California, USA. Alien Technology was established in 1994. They are recognized for their EPCGlobal Gen 2 and ISO/IEC 18000-6c compliant UHF passive RFID solutions which range from transceiver chips, tags, inlays, and labels. They have an extensive range of RFID tags depending on different inlays, form factor, and operating frequency. Squiggle family of RFID tags are one of their most famous tags, while there are many specialized retail RFID tags as well such as Aviator Tags specially designed for aviation applications.
2. NXP USA Inc
NXP USA Inc is a subsidiary of NXP Semiconductors based in the Netherlands. They have been operating since 1953 in more than 35 countries and are one of the largest semiconductor manufacturers in the global market. They manufacture application-specific products, ARM-based processors, communication interfaces, sensors, and RF solutions such as RFID. These products are delivering services in industries such as the automation industry, communication infrastructure, smart city and smart home applications, and mobile industry. They have RFID solutions aimed at both IoT (Internet of Things) applications and radio frequency applications. UCODE Rain RFID is aimed at IoT applications, while HITAG RFID tags are aimed at low frequency applications.
3. RFID Inc
RFID Inc is a leading engineering firm specialized in RFID solutions and products. They are based in Colorado, USA, and were established in 1984. They provide solutions to industries such as the automation industry, mining industry, medical and healthcare sector, transport and logistics sector, and manufacturing industry. Since they are specialized in RFID solutions, they have a portfolio of RFID solutions ranging from RFID tags, readers, interfaces, and different cabling accessories. You can investigate their official website, where you can find different RFID tags both passive and active, and operating in different radio frequencies.
4. Zebra Technologies
Zebra Technologies is a wireless solutions provider and a leading product manufacturer based in Illinois, USA who has been operating since 1969. They are operating in over 120 countries with over 6,500 patents for their trademark. They provide services to many industries including healthcare, energy and utilities, and the public sector. Their product portfolio ranges from mobile computers, printers, industrial machine vision and fixed scanners, kiosks, tablets, and RFID products. They provide custom RFID labels and tag manufacturing services with certified inlays.
5. Impinj Inc
Impinj Inc is the world's largest manufacturer in UHF Gen 2 RFID solutions for item-level and supply-chain applications. It was founded in 2000, in Seattle, Washington, USA. They provide solutions to different industries such as aviation, healthcare, hospitality, manufacturing, retail, and supply and chain sector. They have different RAIN RFID tag chip families catering to different applications. Some of these are,
Impinj M700 series with/without extended memory
Impinj Monza R6 series
Impinj Monza 4 series
Impinj Monza X-8K
6. GaoRfid
GaoRfid is a RFID and BLE solution provider based in Ontario, Canada, and was established in 2006. Their products are deployed in over 70 countries, ranging from BLE gateways, beacons, and RFID readers and tags. Their RFID tag portfolio is divided based on their operating frequency, and distinctive features such as mounting surface. You can refer to their official website for more information.
7. Brady ID
Brady ID is a leading security solution provider for a wide range of industries. They are based in Massachusetts, USA, and have been operating since 1966. Apart from providing custom RFID solutions, they also provide custom RFID software for their products with features enhancing the user experience.
Conclusion
In this article, we discuss RFID tags and several types of RFID tags in the industry and market. Then we examined some of the leading RFID tags and label manufacturers in the market. With the knowledge provided in this article, you will be able to identify the best option for your RFID solution.