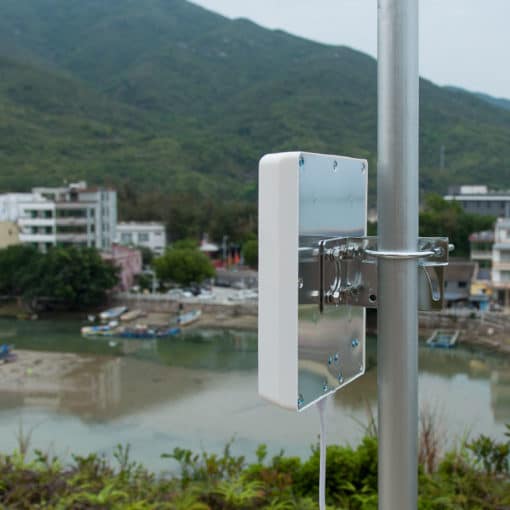 Wi-Fi plays a key role in the cellular Internet of Things (IoT) applications. Wi-Fi enabled IoT applications are secure and reliable, thus making Wi-Fi a highly sought communication protocol in designing IoT applications. However, uniform signal strength and diminishing signal strength with distance impose a major constraint in WLAN networks. To overcome this, we can use Wi-Fi antennas to increase the coverage by increasing the signal strength. In this article, we will identify some of the leading manufacturers and suppliers of WiFi antennas.
What is WiFi?
Wi-Fi is the underlying technology in realizing Wide Local Area Networks (WLANs). In simple words, it is a wireless technology used to connect different applications such as computers, tablets, smartphones, and other different devices which require internet access. IoT applications are the newest addition to this collection, where many modern IoT applications rely on Wi-Fi connection to establish a connection to the Internet.
Wi-Fi is the widely given name to the standard IEEE 802.11 which stands for facilitating wireless communication interfaces. In short, Wi-Fi stands for Wireless Fidelity. Also, Wi-Fi networks would have a range of about 300 m and operate in 2.4 GHz and 5.8 GHz bands. However, unlike other IoT communication protocols, Wi-Fi is equipped with more security and high reliability when compared to other IoT communication protocols. These features come with a cost, as the deployment and device cost of Wi-Fi is relatively high when compared to other communication protocols.  
What are WiFi Antennas?
As mentioned above, Wi-Fi plays a key role in realizing WLAN networks. Due to the spread of WLAN networks, we should make sure that all the end-devices receive radio signals of enough strength and can transmit data with enough signal strength. To facilitate this need we use antennas, which are critical for dispersed networks over a large geographical area. However, requirements for Wi-Fi antennas solely depend on the nature of the application and the operating environment. The main objective of Wi-Fi antennas is to provide enough signal strength in the network and enhance the coverage of the WLAN network. These are usually mounted on top of the routers and gateways rather than on top of the end-devices. This is due to their considerable power consumption when compared to other IoT communication protocols.
There are two types of Wi-Fi antennas namely, omnidirectional, and directional. This is a broad division of Wi-Fi antennas, and these can be further divided into different sub-divisions. Now let us investigate some WiFi antenna suppliers and manufacturers. 
Top WiFi Antennas Manufactures and Suppliers
1. PCTEL
PCTEL is a leading manufacturer of various products and devices related to IoT applications. They specialize in antennas, Industrial grade IoT connectivity devices, and different testing and measuring instruments. PCTEL headquarters is based on USA with branches in China and in Sweden. PCTEL provides a vast selection of Wi-Fi antennas catering numerous challenges in day-to-day wireless communication needs. They provide the following types of Wi-Fi antennas,
Base Station Antennas
Mobile Antennas
Panel Antennas
Whip/Aerial Antennas
Omnidirectional Antennas
Yagi Antennas
Covert Mount Antennas
The choice between the several types of antennas totally depends on the nature of the application and on the user requirement. In addition, to the diverse range of antennas, PCTEL guarantees compliance with ISO 9001:2015 to ensure product quality. 
2. Laird Connectivity
Laird Connectivity is a global manufacturer and supplier with more than 30 years of experience in providing wireless expertise, customizable IoT solutions, EMC and Wireless testing services and unmatched reliable technical products for numerous applications. Internal antennas play a key role in IoT gateways and routers as they are more reliable and efficient than external antennas. Laird Connectivity has specialty in providing services related to internal antennas. They have developed numerous Wi-Fi modules capable of withstanding harsh environments and applications which require a high level of security and reliability. Medical facilities are a good example of such applications. Laird Connectivity ensures the security and reliability of its products with On-Site EMC and Antenna Testing facilities. addition to the testing services, Laird Connectivity also provides Custom Antenna Design services and testing services from low band VHF frequencies to 7.125 GHz. 
3. L-COM
L-Com is another giant in the antenna and communication industry serving since 1982. They manufacture various products such as cable assemblies, connectors, adapters, custom products, and ancillary wireless products such as antennas, RF amplifiers, IoT, coaxial lightning and surge protectors and NEMA-rated enclosures. L-Com has a globally connected network to cater to user requirements with more than 3,000 in-stock sites throughout the globe. They are also capable of providing dish antennas which are effective for outdoor applications. L-Com Wi-Fi antennas support both 2.4 GHz and 5 GHz frequency bands and are produced in different antenna gains depending on the preferred application. 
4. Mobilemark
Mobilemark is a niche antenna manufacturer based in the USA and UK serving the industry since 1984. They provide superior antenna solutions, various assembly services and custom design services. Mobilemark's superior antenna solutions are aimed for innovative that are designed to suit novel frequency spectrums and systems. These antennas also have configurable cables, mounts and connectors and have outstanding antenna performance and efficiency. Mobilemark's WiFi antennas vary in different shapes and sizes. The three main types of antennas they manufacture are compact small, embedded antennas, heavy-duty infrastructure antennas, and mobile antennas. These are specialized for cellular IoT and machine-to-machine communication applications. 
5. Pulse Electronics
Pulse Electronics is another leading global supplier and manufacturer of passive electronics. Pulse Electronics was founded in California and later acquired by Yageo Corporation. They manufacture passive electronics including antennas which are widely used in IoT applications. They manufacture several antennas, including embedded antennas, internal antennas, 3D antennas, external antennas, and outdoor antennas. 
Conclusion
In this article, we shortly discussed what Wi-Fi is and how it is important in WLAN networks. We also discussed about what WiFi antennas are and their importance to increase the signal strength in a WLAN network. Lastly, we looked through some of the leading global WiFi antennas manufacturers and suppliers to get an insight into the WiFi antennas market. Most of these manufacturers provide custom antenna designs and manufacture a large variety of antenna designs. As IoT designers, it is our responsibility to select the most suitable antenna for our IoT use case. Some of the key factors that you may consider are manufacturer reputation, post-sale customer service, and the efficiency of antennas and their performance.