What is LTE-M?
Internet of Things (IoT) applications that are deployed in Wide Area Networks require reliable communication protocols. LTE-M or LTE-Cat M1 is a such WAN protocol. It belongs to the Low Power WAN (LPWAN) family where other technologies such as LoRa and NB-IoT belong. It can be considered a cellular technology-based competitor to other LPWAN technologies specifically aimed at realizing WAN IoT applications. It was first released in Release 13 by 3GPP in 2016. The significance of LTE-M is its lower bandwidth applications in connecting resource-limited devices over a WAN. LTE-M relies on the existing cellular infrastructure, thus reducing the overhead cost of setting up new infrastructure. LTE-M can provide a data rate of up to 4Mbps as per Release 14.
How does LTE-M work?
LTE-M unlike its cellular counterparts like LTE, is focused on IoT and M2M applications over a Wide Area Network. For this purpose, LTE-M has some embedded features, which makes it an ideal candidate for the purpose.
The first challenge to overcome is the high-power consumption in legacy cellular communication technologies. LTE-M to overcome this, uses two exceptional features. They are:
Power Saving Mode (PSM)
Extended Discontinuous Reception (eDRX)
In PSM the device goes to sleep mode while being registered with the network. However, before going to sleep the device should notify the network of the time at which the device may wake up again. A device can be in an idle state for 12 days. It also can be triggered before the specified time by an emergency like an alarm. This sleep state is known as registered sleep. After waking up from the idle state, the device would send data and should wait for some time for the network to respond.
eDRX reduces the device's tendency to communicate with the network. A normal LTE has a paging cycle every 1.28 seconds. On the other hand, for an LTE-M device, this would be for every 10.24 seconds. This suggests that an LTE-M device would have less paging frequency, thus reducing power consumption, in an active state. The difference between how PSM and eDRX achieve low power consumption is that PSM reduces power in the idle state while eDRX reduces power consumption in the active state. These features combined can enhance the device's battery life by up to 36 years of battery operation in the ideal case. However, due to leakage currents and battery self-discharging aspects, this is expected to be around 10 years.
The low cost of devices is another critical factor that we consider in deciding a suitable communication technology for our IoT and M2M application. To address this challenge, 3GPP released Release 12. In Release 12, major cost reduction and optimization features were introduced. First, it allowed half-duplex FDD compared to full-duplex FDD of LTE, which eliminated duplex filter use. It also reduced the bandwidth to 1.4 MHz and introduced a low bit rate, thus reducing the device complexity. Moreover, with the Release 13 or LTE-M, a more narrowband RF design was supported along with low transmit power. These factors summed up to provide more cost-effective and competitive devices which are using LTE-M.
Additionally, another challenge that would impose is the cost of deployment of LTE-M and achieving full coverage. To overcome the cost of deployment, an LTE-M device would integrate with an existing LTE infrastructure, and to increase the coverage, LTE-M provides an additional link budget of 15 dB to increase the coverage. This additional link budget increases area coverage by seven times.
LTE-M Coverage Map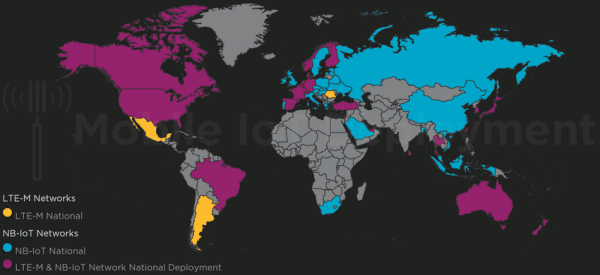 LTE-M Coverage map is a handy tool provided by various LTE-M vendors, to popularize LTE-M usage in IoT domain. A coverage map helps the users to determine the LTE-M support over a region. Some of the popular vendors are Velos, Verizon, AT&T and EMnify. (One such mobile IoT deployment map provided by GSMA is shown below)
LTE-M vs NB-IoT
LTE-M and NB-IoT are both LPWAN narrowband communication technologies. Both are based on cellular technology. LTE-M is part of Release 13 while NB-IoT is part of Release 14 by 3GPP. Thus, both use a licensed spectrum of operation. LTE-M has good coverage compared to NB-IoT as it uses the existing 4G cellular infrastructure. In terms, of latency and data rates, LTE-M has the upper hand being the best solution when compared to NB-IoT. LTE-M data rates range from 384 kbps-1Mbps, while NB-IoT data rates are less than 250 kbps. However, NB-IoT has a good resistance against interference compared to LTE-M. Also, both LTE-M and NB-IoT have good indoor coverage and performance compared to other LPWAN technologies.
LTE-M is the best solution compared to NB-IoT if your application requires high mobility requirements. LTE-M uses the handover capability provided by LTE cellular technology given that there is coverage in each area. Also, LTE-M uses an IP-based communication stack, while NB-IoT uses a message-based communication stack. Another interesting feature in addition, to high mobility capabilities, LTE-M inherits Voice over LTE (VoLTE) capability. This is not present in NB-IoT.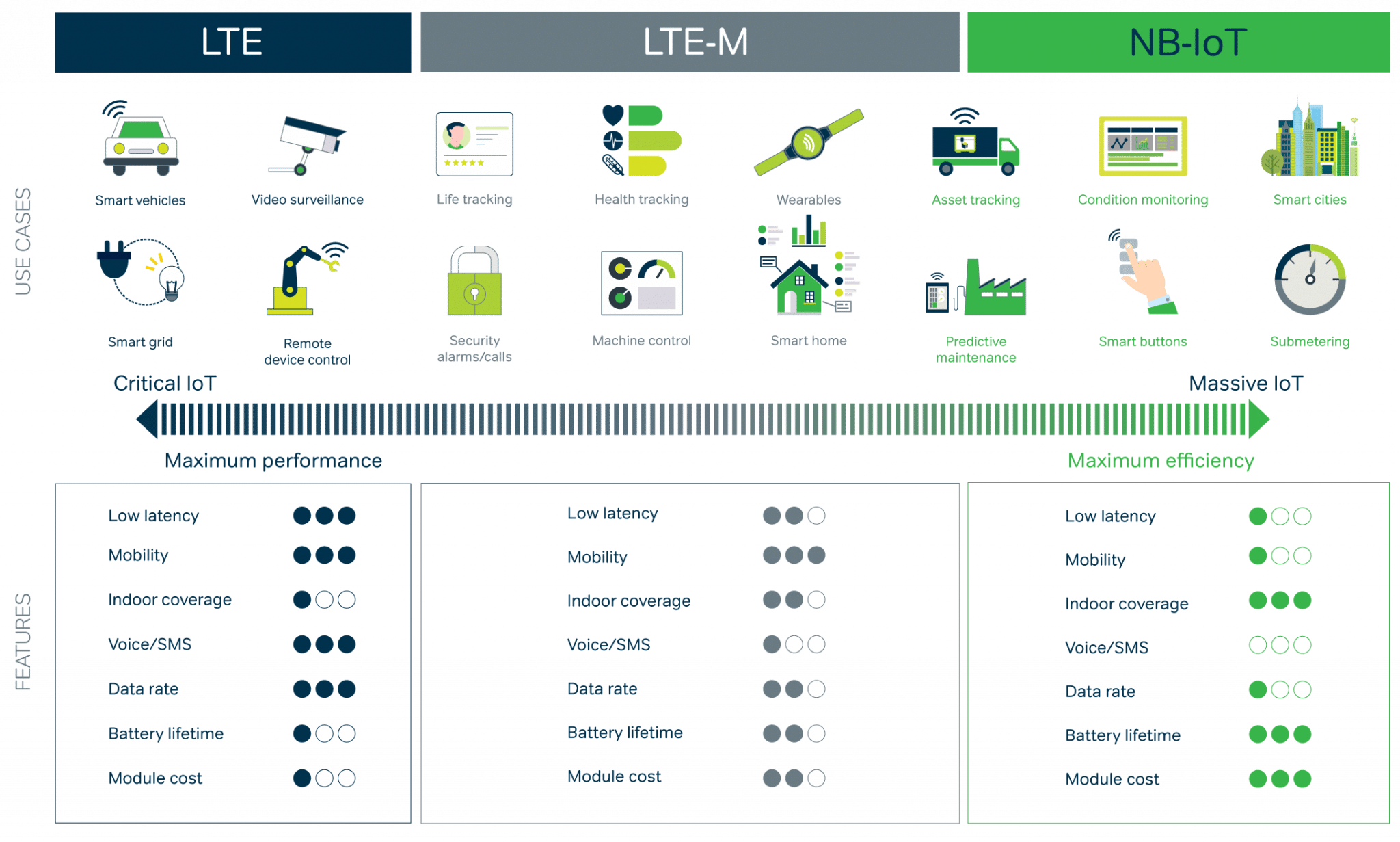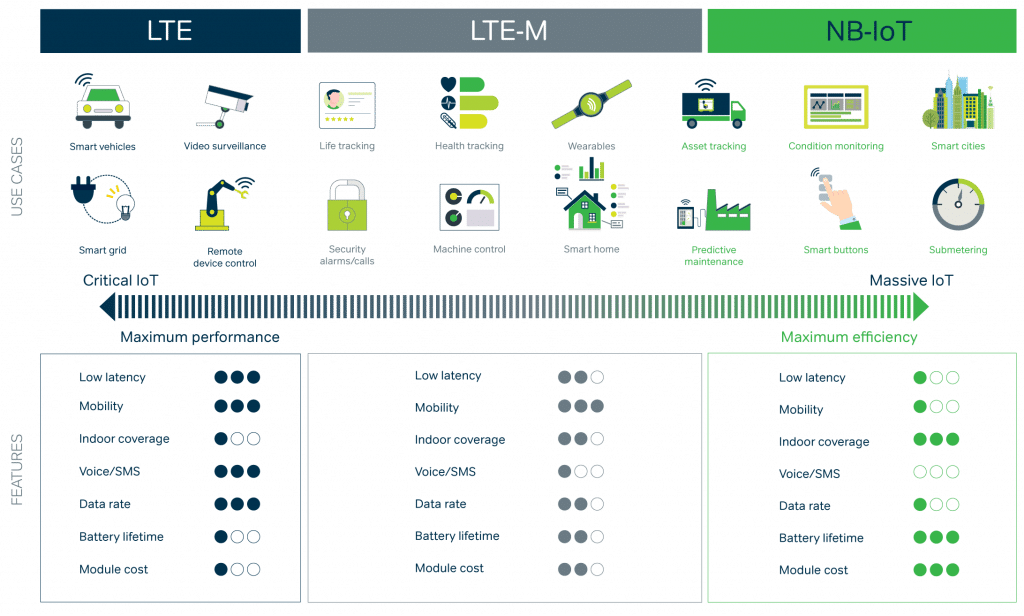 Finally, LTE-M is a suitable alternative for devices that require more updates on their firmware and software often during their lifecycle. It also supports roaming over networks and is currently gaining popularity in the North American region as compared to NB-IoT which is popular in Europe and Asia regions.
Advantages of LTE-M
Let's see some of the possible applications of LTE-M in LPWAN IoT and M2M domain. Before that its worthwhile to summarize the main advantages of LTE-M as follows:
Long battery life: This is enabled by PSM and eDRX.
Less costly devices: LTE-M provides low-cost devices with attractive features of LTE
Improved coverage: LTE-M provides more coverage than NB-IoT by providing an additional link budget.
Supports large volumes of devices: With optimizations and changes in the core network of the cellular LTE network, LTE-M can support large volumes of devices simultaneously.
High throughput and future-proofing: With high throughput, LTE-M can support software and firmware updates without draining the battery. Thus, increasing the life expectancy of the device.
LTE-M is an attractive solution where there are high mobility requirements as in Asset tracking and animal tracking over WAN. Since it can support many devices, it is also widely used in Smart city applications. Moreover, due to its roaming capability, it is one of the best solutions for automotive and logistics applications. These include fleet management and route optimization. Also, since it transmits data at a given interval and would utilize PSM, it is widely employed in applications that require a low frequency of data transmission, for example, smart meters.
Future and Drivers of LTE-M
LTE-M adoption is driven by
Its low cost and low deployment cost: Since LTE-M uses existing infrastructure compared to new frontiers in cellular technologies such as 5G, LTE-M is a highly approachable solution.
In terms of coverage and energy efficiency, LTE-M provides the good capability and is a good compromise of these terms.
LTE-M has minimum voice support and data rate compared to modern frontiers such as 5G.
These factors and the high competitive market drives LTE-M to be a better LPWAN IoT and M2M solution.
Conclusion
LTE-M is a go-to-go solution for your LPWAN application if you need high mobility requirements with low cost of devices and low deployment cost. It should be also noted that it can support large volumes of devices which is critical in terms of larger deployments. Finally, it can be concluded that LTE-M is a better solution in the competitive IoT market.