Introduction
5G cellular network is an integration of multiple innovative technologies such as the Internet-of-Things (IoT), multiple-input-multiple-output (MIMO), millimeter wave (mmWave), network virtual function (NFV), softer-defined network (SDN), and many more. 5G will provide super-fast data rate, higher capacity, and larger frequency band to these technologies to perform to their maximum potential and respond to user requests in no time. 5G services will be initially deployed on the current 4G LTE (Long Term Evolution) network, termed as Non-Standalone (NSA) 5G. It will share the traffic space with 4G LTE by using frequencies ranging in sub-6 GHz that 4G LTE also uses to provide services to users.
However, once its core architecture is deployed completely, 5G will use its network for all operations and services, becoming Standalone (SA) 5G. In this article, we present a detailed overview of what are 5G frequency bands and which technologies will operate in them. So, let's begin:
What are 5G Frequency Bands?
5G frequencies are part of the radio spectrum band that carries the user's data from source to destination. In other words, 5G radio frequencies provide the medium for the user's data to travel from user equipment (UE) to the evolved NodeB (eNB) or base station (BS) to the end user.
In 5G, the higher frequency bands will mostly be used in densely populated areas or indoor applications for short-range communication services. Whereas, the lower frequency bands will be used in outdoor applications covering less-densely populated areas for long-range communication services. At lower frequencies, data travels at a slower speed as compared to higher frequencies but it travels to longer distances. However, with 5G data rates, users will not feel any delay at all in short-range communication as well long.
4G LTE Vs 5G Spectrum
According to 3GPP, the frequency spectrum in which 4G LTE networks operate ranges between 700 MHz to 2.7 GHz. The theoretical peak data rates of LTE are 75 Mbps for uplink transmission and 300 Mbps for downlink transmission with spatial multiplexing i.e. MIMO antenna system.
5G spectrum band is divided into two ranges: The first frequency range is from 450 MHz to 6 GHz, in which the LTE frequency band is also included. This range is referred to as Sub-6 GHz. The second range referred to as the mmWave spectrum, covers from 24.25 GHz to 52.6 GHz. The theoretical peak data rates of 5G are 20 Gbps for downlink transmission and 10 Mbps for uplink transmission for a fully deployed 5G network.
Possible Frequency Bands for 5G
5G will have an extended range of frequencies for providing high-quality signal coverage. Like previous mobile networks, 5G will also use the Frequency Division Duplex (FDD) for lower frequency bands, and Time Division Duplex for higher frequency bands, specifically above 10 GHz. The higher frequency band will complement the lower frequency bands by providing increased system capacity and large bandwidth for handling high data traffic in densely populated areas. The 5G spectrums bands are divided into the following three parts:
Low-frequency band refers to the spectrum band below 1GHz. In 5G networks, this spectrum band will be mostly used to cover wider areas but with slower data rate and latency which, however, will be better than the 4G LTE networks. The performance of 5G in the low-frequency band will depend upon your closeness to the eNB. Moreover, low-frequencies signals can easily penetrate into the building walls or windows, providing 5G cellular services.
The mid-band spectrum covers a frequency range between 1 GHz to 6 GHz. This frequency spectrum is considered ideal for 5G services as it can travel long distances while carrying a large amount of data. According to the GSMA, the spectrum from 3.3 GHz to 3.8 GHz is very appealing for 5G since many countries have allocated it for 5G services.
However, some countries are also using other mid-frequency bands for 5G including China and Japan which are considering the frequency band from 4.5 GHz to 5 GHz for 5G. While in U.S. and Canada, the operators are already deploying 5G services on 2.3 GHz and 2.5 GHz to 2.6 GHz frequency bands.
5G High-frequency Spectrum Above 6 GHz
5G will provide higher data rates than the previous network generations, which will be in higher frequency bands i.e. above 6 GHz. At such higher bands, mmWave technology will operate in the small size cells using directional antennas that will reduce latency and interference to a very low level.
According to the GSMA's recommendation, the service providers should deploy mmWave technology in 26 GHz, 40 GHz, 50 GHz, and 66 GHz for providing mobile services. However, some companies also consider the usage of 26 GHz and 28 GHz since they are already very suitable for operators and as they are adjacent bands, it will be easier for mobile devices to support them.
The mmWave technology provides a very high data rate of up to 1 Gbps to 3 Gbps or above that. However, it covers very small distances like less than a mile and is also subjected to interference from trees and buildings. That is why mmWave is suitable for indoor short-range services.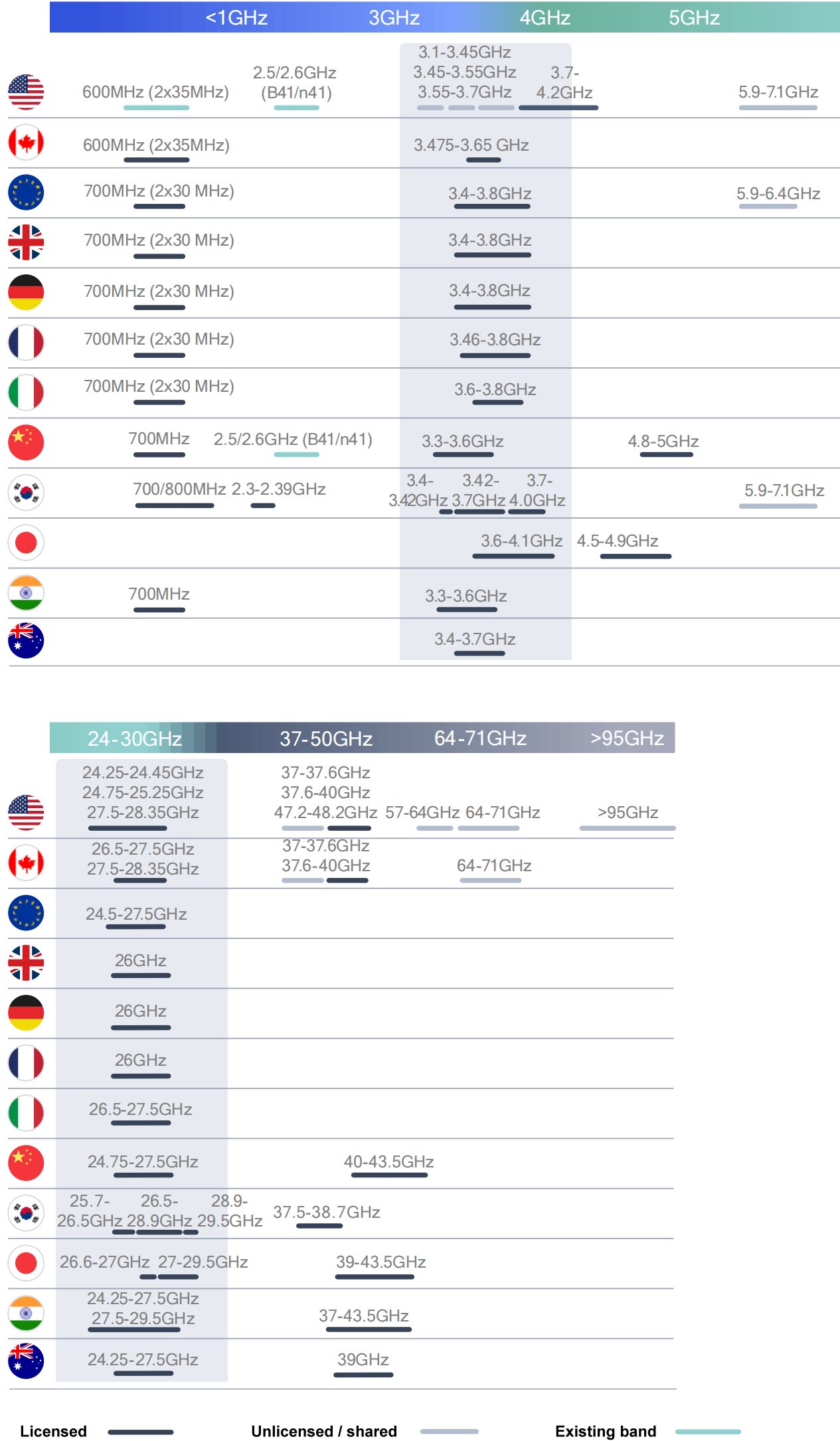 Why Spectrum is Necessary?
Spectrum is the most significant element in any communication network as it allows the operators to provide network services on defined spectrum bands to their customers. In 5G, the high-spectrum band will give you super-fast speed that no one has ever experienced yet. However, the 5G low-spectrum band will cover larger areas and enable long-distance communication.
The operators are competing rigorously to provide high-quality 5G services to customers by increasing their existing coverage, benefiting from new technologies, and purchasing additional spectrum to accommodate maximum.
Conclusion
In this article, you learned about what are 5G frequency bands and the difference between the 4G LTE and 5G operational frequency spectrum. Moreover, it also presents a detailed overview of possible 5G frequency bands that are categorized into three parts: low-band spectrum, mid-band spectrum, and high-band spectrum. 5G network is an integration of multiple technologies where people will witness cellular network, Wi-Fi, IoT, and machine-to-machine (M2M) serving the people together with their innovative features. Though initially, it will use 4G network architecture but once it is fully deployed, it will revolutionize each aspect of human life.