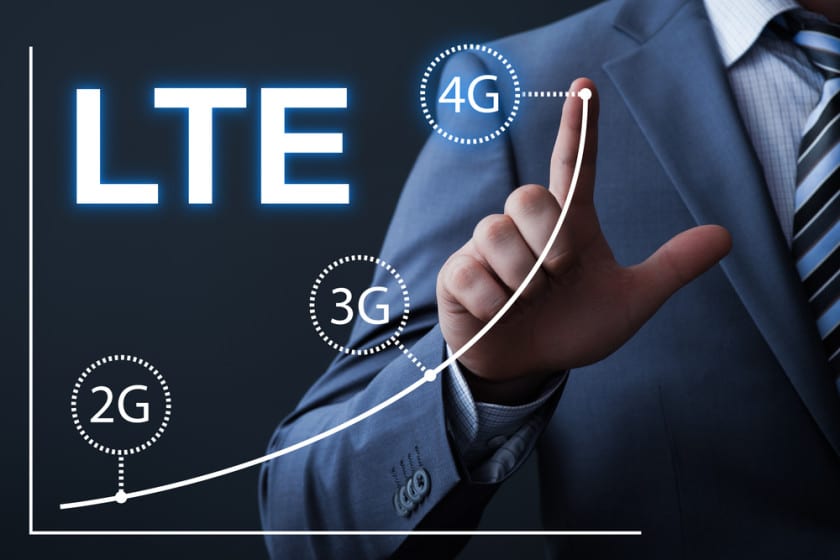 Cellular technology is an emerging technology in realizing Internet of Things (IoT). 4G LTE is a more popular cellular technology due to its high reliability, low latency, and its IP-based capabilities making internet access easy. 4G antennas play a key role in achieving these applications. In this article, we will discuss some of the leading 4G antenna manufacturers and suppliers.
What is 4G?
4G (or fourth generation) technology is the cellular technology that evolved from 3G (third generation) of cellular technology. Compared to its predecessor 3G, 4G is an all-IP based technology, which means it uses the internet protocol for both voice and data communication. In contrast, 3G used a circuit-switching network for voice communication. 4G with its all-IP based technology provides the network provider with more optimization capability over various kinds of services such as online streaming services, video conferencing, and online shopping and banking services. To increase the transmission and receiving efficiency, 4G uses the MIMO (Multiple Input Multiple Output) technology. Moreover, it uses Orthogonal Frequency Division Multiplexing (OFDM) for downlink transmission, which ensures higher speeds and lower latencies in communication. 4G LTE (Long Term Evolution) is an extension of 4G technology introduced to smoothen the transition from 3G to 4G by maintaining some of the components in the Core Network. With high speed and low latency, 4G is deployed in Internet of Things (IoT) applications which connect many devices together over a wide area or a local area network.
What are 4G antennas?
As mentioned above, 4G technology uses MIMO for optimization and reliability. 4G Antennas play a major role in realizing these traits using MIMO technology. The main objective of 4G antennas is to improve the 4G signal strength. 4G antennas operate in two frequency bands: 700 MHz (Band 28) and 2600 MHz (Band 8). Here, the 700 MHz band antennas are considered as a long range, wide area network. However, since these networks can facilitate a greater number of users, they have low internet speeds. To overcome the reduction in antenna capability, 4G technology uses multiband antennas. These antennas can operate on different frequency bands, starting from 2600 MHz, then 1800 MHz and finally 700 MHz. A higher performance can be achieved by connecting to an antenna with a higher gain at an upper band. However, this imposes a major downside of using multiband antennas, as the operating bandwidth increases, the antenna gains decrease. Thus, limiting the maximum achievable antenna gains to a level of 10-11 dBi. Now, to achieve high gain, we can use high gain 4G antennas, which can cover up to 20 km. However, they can operate only in a single frequency band. Finally, MIMO technology allows a modem to achieve polarization diversity with a slanted waveform. This lets the modem have two separate antennas, and thus, increasing the speed of the connection.
Top 4G antenna manufacturers and suppliers
Now let us investigate some of the top 4G antenna manufacturers and suppliers.
Laird Connectivity is one of the leading antenna manufacturers and a supplier in the global market. They have been operating now for more than 30 years throughout the globe based on locations USA, UK, and Taiwan. They provide innovative cellular IoT solutions including antennas and internal modules for different applications. LTE-M and NB-IoT applications are their expertise on cellular IoT solutions and products. Apart from different antennas used for cellular IoT applications, they also provide wireless IoT gateways.
Mobile Mark is an exclusive antenna manufacturer and supplier based in the USA and UK serving the industry since 1984. Some of their services include superior antenna solutions, various assembly services and custom antenna design services. Superior antennas are aimed at providing innovative solutions for novel frequency spectrums and systems. They also provide narrowband cellular antennas aimed for IoT and M2M applications. These antennas cover the entire 600-6000 MHz band, and these also perform on all bands, including Band 71 at 617-698 MHz and LAA at 5 GHz. Moreover, Mobile Mark manufactures cellular antennas that cover the entire cellular frequency range including both 3G and 4G LTE bands.
Remo Electronics is considered one of the largest manufacturers and exporters of digital and analog indoor and outdoor TV antennas, 3G/4G(LTE) antennas and other various types of communication antennas. They are based in Eastern Europe and have been providing services since 1991. They produce more than 100,000 products per month. They have different types of 4G LTE antennas which can operate in different frequency bands. Customers can refer to their website to get more detail on a specific product for a given frequency. They also provide MIMO antennas which are highly preferable in enabling effective communication.
2J Antennas is a leading antenna manufacturer and a supplier which started its business around 2002. They supply several types of antennas for automotive, navigation, IoT, marine, telematic, automation, M2M and other different niche markets. 2J Antennas is main based on Slovakia, UK, and USA. Apart from the antenna supplier business, they also provide PCB & RF Circuit Design services, rapid prototyping services, plastic injection and over-molding services, and cable assembly services. When it comes to 4G antennas, they provide antennas operating in 4G LTE band 450, MIMO antennas, and NB-IoT enabled 4G antennas. Some of the other popular antenna categories are single internal antennas, combination internal antennas, single external antennas, and combination external antennas.
Amphenol is considered one of the world's largest providers of high-technology interconnects, sensor, and antenna solutions. They are serving markets such as the automotive industry, broadband, commercial aerospace, and IT datacom industry. Amphenol has a history spanning up to the early 1930s and is based in Chicago, USA. They manufacture and design different antenna solutions, interconnect systems, sensors, and high-speed cables. Apart from conventional 4G LTE antennas, they also manufacture antennas for private LTE networks. More different types of antennas can be found on their official website.
Conclusion
In this article, we discussed what a 4G cellular network is and how 4G antennas play a major role in these networks. Next, we briefly explored some of the leading 4G antenna manufacturers and suppliers. Most of these manufacturers and suppliers have now focused on addressing cellular IoT solutions rather than focusing on traditional 4G network requirements.