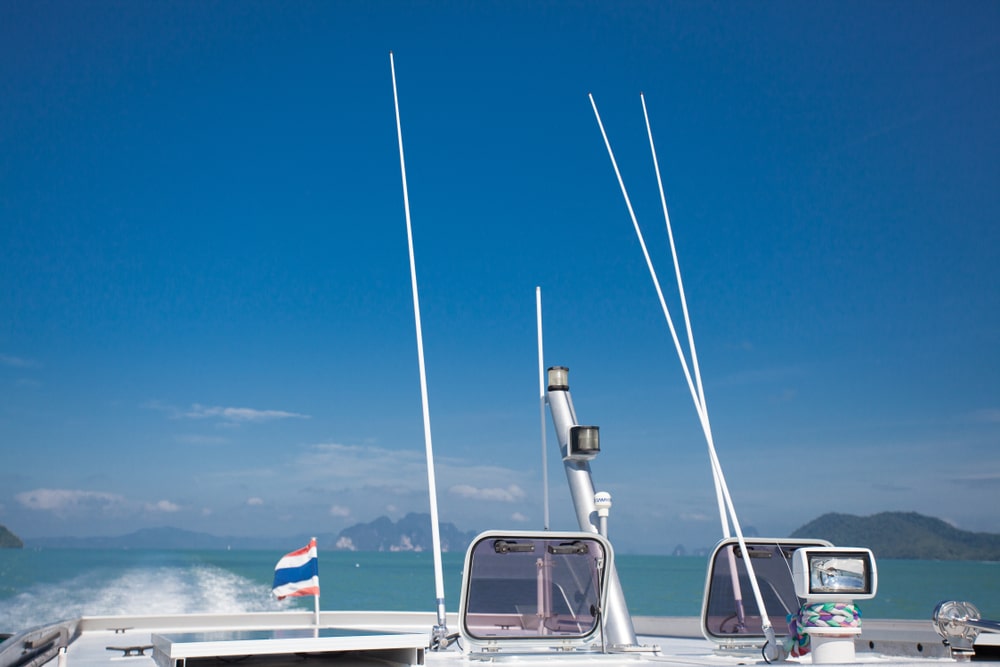 Very High Frequencies (VHF) are used in different short-range radio applications. In such VHF systems, VHF antennas play a major role. They are responsible for transmission and reception of radio signals in each direction. In this article, we will briefly discuss some of the factors we should consider when choosing a VHF antenna and some of the leading manufacturers.
What is VHF?
VHF stands for Very High Frequency and refers to the radio frequency spectrum waves ranging from 30 to 300 MHz. These have a corresponding wavelength ranging from 1 m to tens order of meters. VHF is widely used in different applications such as:
FM broadcasting
Television broadcasting
Military and local mobile radio transmissions
Traffic control long communications
Radars
Radio modems
Marine and Air navigation systems
When compared to High Frequency (HF) transmissions, VHF radio signals are easily blocked by land features. Consequently, VHF radio signals are not optimal for long-range communication but are best suited for distances that slightly exceed the line of sight from the transmitter. Moreover, unlike HF radio signals, VHF radio signals are not usually reflected by the ionosphere, hence are restricted to the local area. On other hand, VHF is less affected by atmospheric noise and interference from electrical equipment when compared to lower frequencies.
VHF Antenna is a critical component in VHF transmission systems. There are several types of common VHF antenna designs. Some of them are,
VHF arrays
Multi-element VHF Yagi Antennas
Log Periodic Antennas
Conical Array Antennas
Understanding the type of antenna, you need is crucial for the proper design of the system. However, this is not enough for more efficient transmission. To choose the correct antenna for your purpose, you should also consider the following factors.
As the selection criteria, one should be aware of the required dB rating, gains and losses, antenna construction material, and elements inside the antenna.
Also, we should be aware of other factors that affect the transmitting range of the antennas, such as antenna height, range of line-of-sight operation, and the maximum output of the antenna.
Top Manufacturers of VHF Antenna
PCTEL is a leading manufacturer of various kinds of IoT (Internet of Things) products including industrial grade IoT devices, testing and measurement instruments, and antennas for IoT applications. PCTEL is based in the USA and has branches in China and Sweden. When it comes to VHF antennas, PCTEL provides a wide range of VHF antennas from log periodic array antennas to base station VHF antennas. Most of these antennas radome are made from fiberglass and some antennas are tunable making it easy for the customer to tune to the required frequency. You can visit their website to have a more understanding of the range of their products.
Shakespeare Marine is one of the oldest manufacturers of antennas specialized for marine applications. Their date of origination is dating back to 1946 based in Columbia, SC. At present, they have expanded their product market from marine applications from civilian maritime customers to military customers as well. They guarantee Quality Assurance with their immense QA testing procedures including 200-hour saltwater corrosion testing. Shakespeare Marine provides a wide range of products such as VHF antennas, Base station antennas, AM/FM antennas, CB antennas, and SSB antennas. When it comes to VHF antennas, they are providing a few main categories of their exclusive products as,
Dorsal VHF Antenna: perfect for smaller marine vessels
Phase III VHF Antenna: perfect for high winds and speeds
Galaxy VHF Antenna
Classic VHF Antenna
QuickConnect VHF Antenna
Digital Antenna is a leading manufacturer based in the USA and has pioneered in building the first dual-band cellular amplifier and many more. They manufacture both land base/mobile antennas and marine antennas. When it comes to VHF antennas, they have a wide range of product catalogs depending on the length of the antenna and the power gain required for specific applications. These antennas are specially designed for marine applications such as T-Top, speedboats, sailboats, yachts, and commercial vessels.
AirWave Marine is manufacturing marine, military and recreational communications equipment for more than 35 years based in the USA. They manufacture products such as marine VHF antennas, radio antennas, extension cables, connectors, and splitters. Pro Series Marine VHF Antenna is one of their exclusive VHF antennas specially designed for marine applications. It is made from 30% stronger fiberglass with dual shield ultra-flexible cable and with gold-plated connectors. Moreover, they also provide Marine VHF Whip Antenna especially designed for powerboats and sailboats. These antennas operate in the frequency range from 156-162 MHz with a gain of 6 dBi and a maximum power in the range of 75 W.
Panarama Antennas is one of leading VHF antenna manufacturers based in the UK. They provide a wide range of antennas catering to the needs of different markets such as mobile radios, cellular communication systems, IoT and M2M applications, and inbuilding and DAS (Distributed Antenna Systems) systems. Moreover, they also manufacture various antenna accessories such as antenna bases, splitters, surge arresters, cables, and connectors. They provide VHF antennas designed for various in-building and Distributed Antenna System (DAS) applications. They also support VHF frequency bands: E3, E4, H3, H4, H5, H6, and H7 bands. These are widely used to provide coverage for public safety and PMR networks.
Sinclair Technologies offer integrated solutions for a wide range of wireless communication needs. Their products cover a wide range of frequency bands including 1 GHz, 800 MHz, UHF, VHF, TETRA, and 5G. Moreover, their product catalog includes products like base station antennas, mobile/transit antennas, covert antennas, 5G antennas, filters, and receiver multicouplers. They also provide custom products and systems based on customer requests. When it comes to VHF antennas, they have more than 25 products operating in different VHF frequency bands and with other different specifications. You can check their website for more information.
Amphenol is one of the world's largest providers of sensor and antenna solutions. They are catering to the needs of different markets such as automation, broadband communications, commercial aerospace, information technology, military and mobile networks. Their history spans up to the early 1930s and is based in Chicago, USA. They provide VHF antennas for different applications including aerospace applications and mobile/base station applications.
Conclusion
In this article, we discussed what VHF is and what factors that we need to consider when choosing a suitable VHF antenna. Finally, we shortly surveyed some of the leading VHF antenna manufacturers and their products. Most of the VHF antennas are used in marine applications while some are deployed in base station applications and in DAS systems.