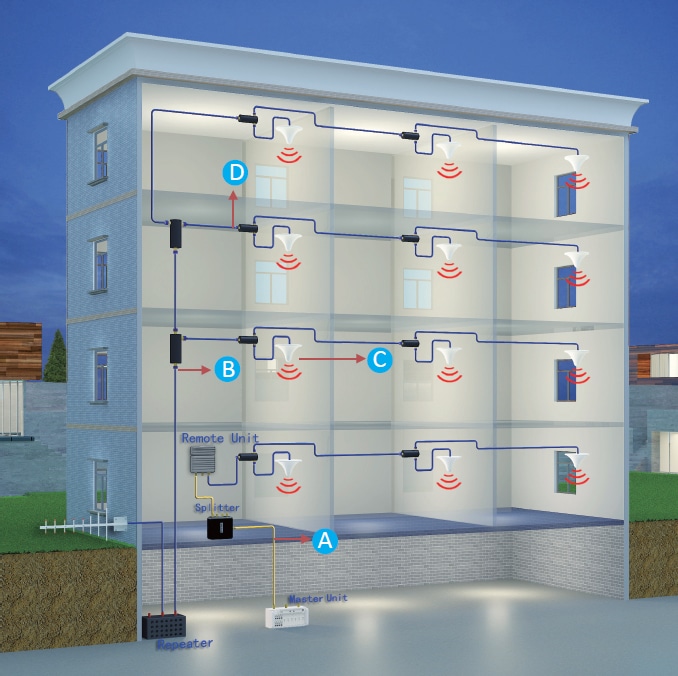 Mobile signal coverage and network capacity are major concerns in a building, especially in a shopping mall in a congested urban environment. Due to the natural interferences and high usage of the network, cellular network coverage and capacity provided by cell towers are not sufficient. Therefore, we need to realize systems that can cater to this requirement. This is where Distributed Antenna Systems (DAS) come to play. In this article, we will shortly discuss what DAS is and some of the leading manufacturers in the market who are providing DAS antennas.
What are DAS antennas?
DAS antennas stand for Distributed Antenna Systems. These DAS antennas are used by different enterprises to improve the signal quality and strength of cellular connection on a carrier's licensed frequencies. This system can improve the user experience in buildings in a highly dense urban setting. There are two main components in a DAS system. They are,
A signal source: A DAS system would catch a signal (5G / 4G LTE / 3G) from a source and will feed it into its distributed system. There are three main types of signal sources: off-air (on top of the roof), on-site Base Transceiver Station (BAS) and finally small cells (Femto Cells/ Pico Cells/ Metro Cells)
Distribution system: This system is responsible for distributing the signal acquired throughout the building. There are four main types of distribution systems: active, passive, hybrid and digital.
Before discussing the different types of DAS antennas, we should clearly identify the objective of installing a DAS system. The two main reasons that drive us to consider a DAS are coverage and capacity. Distinguishing between these two needs is important to get the maximum use of a DAS system. Another critical factor that one would consider is the price of deployment, which can be extremely high during the deployment stage.
Now let us have a brief understanding about the several types of DAS antennas based on their sub-systems. Off-air signal source systems rely on a donor antenna on the roof to capture a cell tower signal. These are deployed if there are cell towers nearby, otherwise, they are ineffective. This is one of the main disadvantages is such a system. However, it is the lowest-cost option available. In the small cell deployment, a secure tunnel back to the carrier's network is established via the Internet. This creates a high-quality connection, however, it is expensive. Another option is the use of an on-site BTS. These are installed in the building and a backhaul connection to the carrier's network is made using fiber optic cables.
Next, we will investigate some of the signal distribution systems available. A passive distribution system uses leaky feeder cables such as coaxial cables. This will cause the farther ends to receive signals with low strength. On the other hand, active distribution systems use fiber optics or fast ethernet to deliver the signal. Therefore, this system would have equally spread signal levels, and we do not have to bother about the cable length constraints. A hybrid distribution system is a combination of both of these techniques. A digital distribution system uses digital modulation techniques to convert the signal to a digital signal. This makes it less susceptible to noise, however, at the expense of high cost due to the digital conversion of the signal.
DAS Antenna types
An omnidirectional DAS antenna is an antenna that transmits signals in all directions. They are commonly used in indoor DAS systems because they provide uniform coverage. Among them, flat-panel antennas and circular antennas are the more common types of DAS antennas. Flat-panel antennas are usually small, lightweight antennas that can be installed on walls, ceilings, or ceilings. The circular antenna is relatively larger and the effect will be better.
Directional DAS Antennas
Directional DAS antennas are antennas specifically designed to transmit signals in a specific direction. They are commonly used in outdoor DAS systems because they provide stronger signal strength and longer coverage. Common types of directional DAS antennas include parabolic antennas, helical antennas, and rectangular antennas. The main advantage of a directional DAS antenna is that it provides coverage in a specific direction, where the signal will be stronger.
Now having a general understanding of the types and combinations of different DAS antenna systems. Let us find out some of the leading das antenna manufacturers and suppliers in the industry. 
Top DAS antenna manufacturers and suppliers
1. Corning
Corning is one of the leading pioneers in the RF and wireless world operating for more than 170 years of operation. They are based in the USA and help industries to build and shape their wireless connectivity requirements. They operate in optical communications, mobile consumer electronics, display, automotive, and life sciences markets. They are also one of the leading market leaders in optical communication. When it comes to providing DAS, they have their latest product, Everon DAS. Everon DAS can handle 5G cellular network carriers and comes in three flavors depending on the scale of different user needs. They also have Corning ONE (Optical Network Evolution) technology which is based on fiber optic infrastructure.
2. Commscope
CommScope is a well-known antenna manufacturing company headquartered in North Carolina, USA. Their vision is to connect society in digital domain to achieve social benefits. Commscope is partnered with leading brands such as Heliax, Systimax, and Novux. DAS services provided by Commscope are two-fold. They provide both the hardware and software for the management of DASs. The two main types of products based on DAS are ERA and ION-U systems. ERA systems are based on signal sources acquiring equipment using off-air methodology and are a digital solution. ION-U is based on BTSs which are installed in enterprises. These are designed for LTE and 5G networks. 
3. Ventev
Ventev is a division of TESSCO technologies that designs and manufactures wireless products for different markets. As a world-renowned distributed antenna systems manufacturer, the major types of products they offer are antennas, cables, enclosures, connectors, and other site hardware. They are based in Baltimore, USA and provide services for markets like utility, education, healthcare, and retail. They provide DAS antennas, which can handle LTE, cellular and 698-2700 MHz frequency bands. These antennas come in different options to cater to unique customer requirements. 
4. TE Connectivity
TE Connectivity is a leading wireless product manufacturer that is carrying out innovation in power electric vehicles, aircraft, digital factories, and smart homes. They have been operating for more than 75 years in the market and are based in the USA. They have a record of manufacturing around 236 billion products annually for different markets in more than 140 countries worldwide. When it comes to DAS antennas, they provide ceiling mount and wall mount solutions. There are two main types of ceiling mount antennas as ceiling tile mount and hard ceiling mount. These operate in 5G bands such as C-band, and 4G-LTE bands.
5. JMA Wireless
JMA Wireless is another leader in the market providing services based in the USA. They are specialized in providing in services in mobile connectivity services that enable faster, more reliable, and more secure networks for consumers and businesses. They are the pioneers in serving software-based wireless solutions and to first deploy indoor 5G networks.
When it comes to DAS systems, TEKO is one of their exclusive trademarks. TEKO platform can deliver maximum performance, supporting multiple operators, with the flexibility to adapt coverage and capacity in any venue on an event-by-event basis. This supports both 4G-LTE and 5G connectivity. Apart from the exclusive hardware solutions in the TEKO platform, it is also equipped with a Software Defined Remote Unit (SDRU) which helps to monitor and control the TEKO DAS system. Moreover, customers can have an idea about their intended DAS system with JMA wireless using their Rough Order of Magnitude (ROM) software regarding coverage and capacity of the system before deployment.
Conclusion
In this article, we explored Distributed Antenna Systems (DASs). They are important in realizing enterprise-based network requirements related to coverage and capacity. Then, we briefly discussed some of the industry leaders in DAS antennas and some of their services. In conclusion, we can see that different manufacturers are aimed at providing several types of DAS systems with a unique set of features. Also, most of the manufacturers and vendors now support 5G frequency bands as well.