Cellular and Wi-Fi technologies have been serving users well since their emergence. Each technology generation introduced new features that improved the user experience more than ever before. Today, the world is entering into the era of 5G networks which is expected to completely revolutionize communication methods in the coming years. 5G network promises to offer higher data rates and lower latency to users. In parallel to the cellular network, Wi-Fi technology is also grabbing the attention of many due to its latest version of Wi-Fi 6 which aims to outperform the previous generations by bringing along new capabilities and support features. Though, 5G technology and Wi-Fi 6 have various differences but they are not meant to compete with each other, rather they can be used together to discover innovative services and meet the user's demands. In this article, we will unfold the details of 5G and Wi-Fi 6, and discuss how these technologies complement each other using their differences.
5G and Wi-Fi 6: Definition and Features
5G technology is introduced by the 3rd Generation Partnership Project (3GPP) which is the main organization responsible for defining the specifications of each cellular technology. According to 3GPP, 5G technology consists of three main features i.e. Enhanced Mobile Broadband (eMBB), Ultra Reliable and Low Latency Communication (URLLC), and Massive Machine Type Communication (mMTC). These features enable it to perform beyond the capabilities of previous generations with improved speed, capacity, user mobility, and connection density. 5G technology will also enable the development of new techniques and applications that will benefit the users in executing their personal, business, and office tasks efficiently.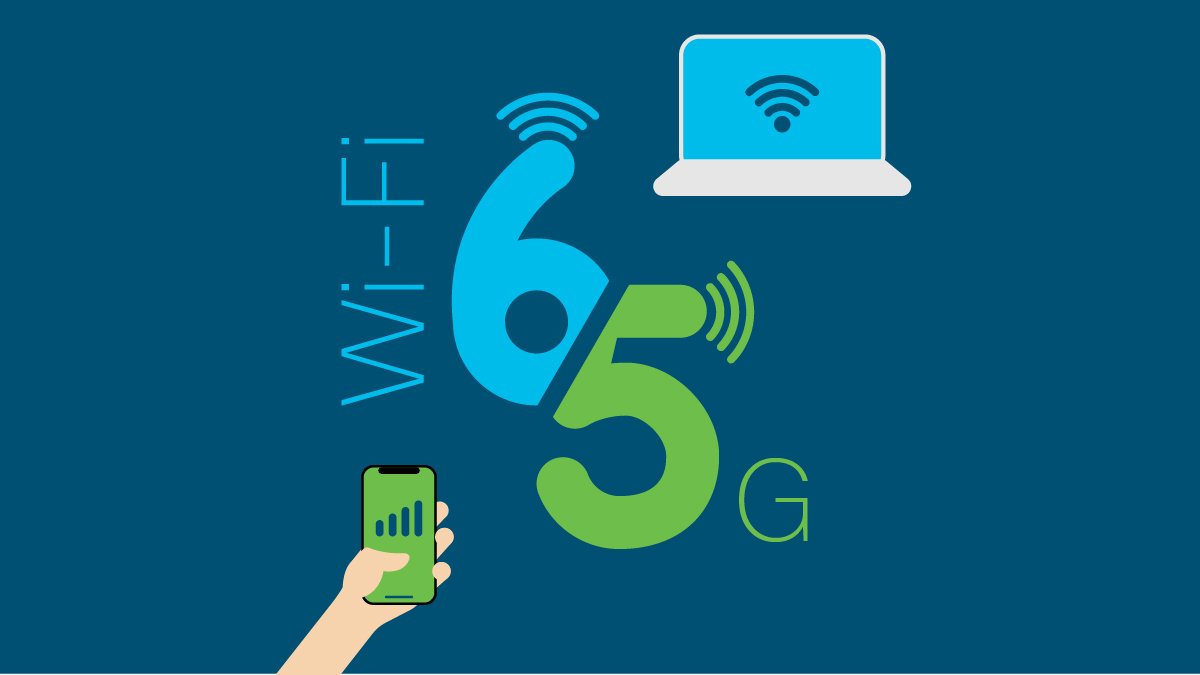 Wi-Fi 6 is the latest addition to the family of WLAN (Wireless Local Area Network) technology and is based on the IEEE 802.11ax standard. It is expected to offer 4x higher capacity and 75 percent lower latency than its previous generation, Wi-Fi 5. Wi-Fi has become a very common and necessary part of our homes and offices where everyone is constantly connected to it for accessing the Internet services. To enjoy the higher data rate, capacity, and multi-user support features of Wi-Fi 6, all you need is a Wi-Fi 6-enabled access point to successfully operate it.
Differences between 5G and Wi-Fi 6
The differences between 5G and Wi-Fi 6 are categorized in the following way:
Technology and Connectivity: 5G and Wi-Fi 6 have the major difference of technology type to which they belong. 5G roots from the cellular generation technology, whereas Wi-Fi 6 is the part of WLAN technology. The connectivity of these technologies makes a huge difference. Cellular service providers deploy macro and micro base stations to provide network coverage. Wi-Fi service providers install routers and access points at organizations and homes for users to access broadband services.
Licensing: 5G network is operated by service providers on dedicated and licensed frequency bands. To access these bands for network services, you need to pay a particular subscription fee to the service provider of your choice. 5G performance depends on your distance to the cell tower, which can be determined by the number of bars on your mobile phone, and the number of people connected to the network. In case of Wi-Fi, it uses an unlicensed frequency band to deliver its services to the users. It means, you can have a separate Wi-Fi connection without requiring a license for using it. However, your Wi-Fi speed may be affected by how many people are using the broadband service in your neighbors simultaneously on the same channel as you. For office use, Wi-Fi is managed in such a way that all tasks are completed in time.
Authentication Techniques: As discussed, Wi-Fi operates in an unlicensed frequency band so anyone can use it without requiring permission. However, a Wi-Fi network does include an authentication process that asks the users about the Wi-Fi network name and password in order to access it, which no one knows except the Wi-Fi owners only. One of the most significant improvements made in Wi-Fi 6 includes the replacement of PSK authentication with Simultaneous Authentication of Equals (SAE) which protects the network more against malicious users by preventing offline dictionary attacks. The authentication of cellular networks is acquired easily by connected devices. However, to boost the 5G network security, it supports improved authentication techniques including 5G Authentication and Key Agreement (AKA), Extensible Authentication Protocol (EAP)-AKA, and EAP-Transport Layer Security to boost 5G network security.
Network Security Techniques: 5G will provide better network security than its predecessors. It includes several new security protocols that detect and prevent various modern security threats and attacks. These protocols support enhanced protection of subscriber identity, physical layer security techniques, and key-based encryption techniques that allow the device to be protected against any malicious attack and enable it to authenticate itself seamlessly as it moves between networks. Despite having stronger network security than cellular networks, Wi-Fi 6 has still increased its security by adding Wi-Fi Protected Access 3 (WAP3) technique that is expected to outperform its previous version, WPA2, in enhancing the device authentication and encryption process.
How do 5G and Wi-Fi 6 complement each other?
Though 5G and Wi-Fi 6 technologies have various differences, the experts analyze them as a source of potential benefits for the world if work together. Some of the complementary roles of 5G and Wi-Fi 6 are discussed as follows:
Both 5G and Wi-Fi 6 aim to increase the data rate to gigabits, reduce latency, and enhance user experience as compared to their previous generations. Their interoperability can allow a device to smoothly connect to the network as it travels from one place to another.
5G and Wi-Fi can successfully implement and enhance the operations and functionalities of an IoT network and edge devices.
They can improve business remote working and telemedicine by supporting better, faster, and more reliable network connectivity.
Wi-Fi has lower deployment, maintenance, management, and scaling costs, especially when number of users are more. This, it will remain a cost-effective technology for indoor use such as at homes, workstations, or large enterprises. 5G, however, is more convenient for outdoor use to connect smart phones, vehicles, and smart city infrastructure, due to its larger coverage.
Conclusion
Both 5G and Wi-Fi 6 are significant innovations concerning their technologies. They have the potential to serve the users better than their predecessors by offering higher speed, capacity, and multi-user supporting features. Either of them can only be preferred depending on the application requirements at hand, such as indoor or outdoor usage, coverage area, number of users, mobility, network management, and cost. But, the fact that 5G and Wi-Fi 6 can offer potential benefits to users and organizations if used together can pave way for such network innovations that no one has ever experienced yet. In other words, 5G and Wi-Fi 6 do not compete but complement each other.